For a bit of fun, make some cakes (or muffins) that look like Christmas trees 🙂 Sorry to share it so long after Christmas – I just got too busy, lol!
This is an easy activity to give the kids, too, and can become a gift-making exercise while you're at it.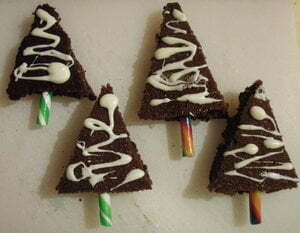 Christmas tree cakes
Make a rectangular cake or brownie
Cool the cake
Cut the cake/brownie into triangles
Insert a candy cane into the cake half way along the base – to form the tree trunk
Use coloured icing to add lines of tinsel on the tree
Use dobs of icing or broken lollies to add other decorations to your tree
Let everything set then enjoy!
Really handy to give as gifts for the kinder or school class.
Of course, you could use a tree shaped cutter instead of triangles if you have that option, but the triangles are so easy and don't waste any cake.