by Josie Wowolla Boyle
illustrated by Fern Martins
Magabala books, Broome, 2012
Age group: primary school
Coming across a lovely picture book that is very Australian (without any clichéd cute animals dressed as Santa) is a nice treat
The story
Bubbay is a lonely boy fending for himself in the Aussie Outback. On Christmas Eve, he feels sad to have no family, no house and no Christmas tree. At this point, the story gets magical with Bubbay's Grandmother's spirit leading him on an adventure to collect special things so Bubbay can earn a special Christmas.
The story is a little  detailed for pre-schoolers but is enjoyable for lower primary children. It is beautifully illustrated with simple, detailed paintings. Australian animals are included in a way that hints at the Dreamtime and characteristics of those animals (eg mentioning a Bower Bird's home), thus inviting further discussions and learning.
My review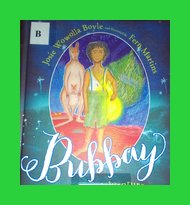 My only disappointment was that Bubbay sat back on Christmas Eve to watch reindeer flying by instead of boomers, but reindeer may well work better for a wider audience.
I was able to predict the ending early in the book, but it is still heart-warming – and children wouldn't see the obvious coming as easily as I, so this doesn't detract from the story at all.
Definitely a beautiful book to add to any child's (or adult's!) Christmas or Australian book collection.