Downloads and useful info
Have some Christmas fun with Love Santa!
Read some articles about Santa and enjoying the magic of Santa and Christmas
* Please contact us if you would like some Santa/Christmas articles to use.
Other fun and useful downloads
Link to us
Please use this banner if you wish to link to this website
URL: www.lovesanta.com.au
Website Name: Love Santa – Personalised Letters from Santa
Thank you…
Santa appreciates the help and support of the following businesses with sending out these special letters…
Word Constructions – for professionally written letters, webcopy, articles and more.
Web Graphics by Email – for this beautiful website!
Santa also enjoys the following (mostly) Australian websites and businesses:
Fishpond – do your Christmas book shopping online, for gifts or something for you to read! Don't forget to check out our Christmas book reviews for ideas, too.
Abbey's Bookshop – an Aladdin's cave for readers and an institution for lovers of reading and a favourite of readers with interests in history, science, crime fiction or literature
The Australia Gift Shop – for Aussie gifts such as Aboriginal art, hats and bush body care
Clean Talk for websites – Antispam modules that have saved us a LOT of time!
Digital pacific – website hosting based in Australia with awesome customer service
Bedloves – for quality linen and bamboo bed sheet sets and doona covers, with free shipping!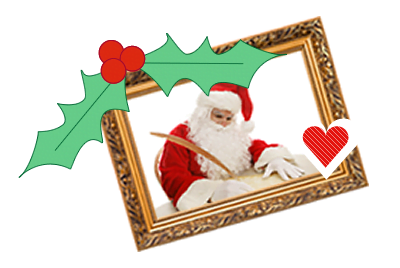 Order Cut Off Dates
Please note that Love Santa letters need to be ordered before December 15 to be delivered before Christmas!
Order now to be sure of delivery before Christmas. Keep an eye on our blog for final ordering days as we get close to Christmas Eve.
Privacy Policy
Under no circumstances, not even under threat of having to fill in for Santa on Christmas Eve, will your details of any kind be given, sold or lent to any other party.