Leaving Snacks for Santa
by Tash Hughes of Love Santa
Santa works hard on Christmas Eve, and he deserves a snack for the energy to keep going. It is also a good thing for kids to give Santa something in return for his work and gifts.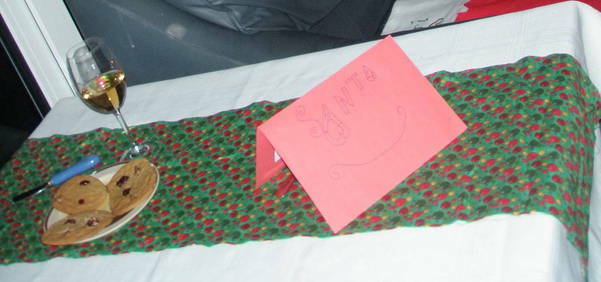 Of course, you could just buy a plate of biscuits but it's nice to be original and offer Santa something made with love. And Santa is sure to appreciate something the kids have helped make more than mass produced biscuits from a shop – not to mention the values it teaches the kids to make something from scratch.
Who knows, making something special for Santa could become a treasured family tradition – it certainly has in our house!
So here are some suggestions of snacks your kids could leave out for Santa this December – or cook for Mum and Dad at any time of the year!
---
Shortbread (or 5cent biscuits as my 3 year old called them! This is now our family tradition.)
Ingredients:
250 butter, unsalted
1/3 cup caster sugar
1 teaspoon vanilla essence
2 cups plain flour
½ cup rice flour
extra caster sugar to sprinkle on top
Preparation:
Preheat oven to 1500C
prepare a tray with butter or non-stick surface
'cream' the butter (this means, beat it until it is white and creamy)
add sugar and vanilla essence
mix until mixture is pale and looks bigger
sift flours
add floors to mixture with a wooden spoon (using a beater here will make the biscuits tough later)
knead the mixture on a floured board
roll out flat and cut into shapes OR divide into two and make two flat circles and mark as segments
sprinkle with caster sugar
bake 50 – 55 minutes until pale golden colour
remove from oven and cool
You can then ice the shortbread or dip it in melted chocolate.
---
Cheese Twists
Ingredients:
1 sheet frozen puff pastry
2 tablespoons cheddar cheese, finely grated
2 tablespoons parmesan cheese, finely grated
1 egg
Spices to taste – tumeric, curry powder and oregano are all nice
Preparation:
lay out pastry on the bench
preheat oven to 220OC
beat the egg
spread the egg over the sheet of pastry
sprinkle cheese and spices over the pastry
cut pastry into thin strips about 1 cm wide
twist each strip
lay strips on a baking tray
bake for about 10 minutes and pastry is puffed up and brown
cool then keep in an airtight container
nice with dips but that's a bit hard to leave out for Santa…
---
Zucchini Spirals
Ingredients
2 medium zucchinis coarsely grated
1 small onion grated
100g salami or ham finely chopped
2 cloves garlic finely chopped
½ cup grated fresh parmesan cheese
4 sheets filo pastry
1/3 cup dried breadcrumbs
Preparation:
Combine everything except the pastry
brush or spray the pastry sheets with canola oil and layer them
place the mixture on the pastry – leaving a 5cm gap along one edge
roll the pastry towards the clear edge – roll as tight as possible
brush or spray the roll with canola oil and cover with cling wrap
put in the fridge for at least an hour
preheat oven to 210OC
prepare a tray with butter or non-stick surface
remove roll from fridge and slice into 1.5 cm thick pieces
place pieces on a baking tray
bake for 12 -15 minutes And spirals are well browned
best served hot, but Santa will still enjoy them cold!
---
Fruit Skewers
(avoid apple, pear and banana unless soaked in lemon juice first)
Ingredients
Whatever fruit you have available – kiwi fruit, pineapple and berries work well
Preparation:
wash the fruit
cut the fruit into bite size chunks
thread chunks of fruit onto short skewers
That's it! Of course, you could serve it with a dollop of ice cream but that will probably melt before Santa arrives!
---
Apricot Balls
Ingredients:
400g tin condensed milk
250g Marie biscuits
3 tablespoons brandy or orange-liqueur
1 cup desiccated coconut
1 cup dried apricots, chopped
¾ cup pecan or cashew nuts, chopped (optional)
Preparation:
mix all ingredients together
roll into balls
roll balls in extra coconut or sesame seeds if you want to
put in the fridge to set, or you can even freeze them!
For a change, add 2 tablespoons of lemon juice before forming the balls. Or heat 150g condensed milk and ¼ cup of white chocolate and add that instead of the condensed milk.
---
Chocolate Balls
Ingredients:
1 packet Marie biscuits
¾ cup desiccated coconut
2 Tablespoon cocoa
1 tin sweetened condensed milk
Preparation:
crush the biscuits – inside a calico bag is perfect, but a plastic bag works!
mix all dry ingredients
add the milk
roll dough into balls
roll balls in extra coconut or chocolate sprinkles if you want
If you think Santa would like it, you could add a little rum or an orange liqueur to the mix as well.
Delight a special child this Christmas with a personalised letter from Love Santa, or find more Santa snack recipes in the Love Santa blog. Simply complete an online form with some details about your child, and they'll get an individual letter relating to a hot Australian Christmas and listing their good deeds. All letters are written by professional writer Tash Hughes. This article is copyright by Tash Hughes, 2007, but may be reproduced in full as long as nothing is changed and this bio box is included.