Keep in touch with Christmas stories and ordering tips by following us on Twitter (LoveSantaAu) or liking our Facebook page (Love Santa).
If you have any questions about his personalised letters, please contact his letter writers via the contact form or details below or via our Facebook page. As Santa gets pretty busy leading up to Christmas, please understand if we don't respond immediately
03 9018 8182
PO Box 357
Burwood, Victoria
Australia 3125
Leave a testimonial to tell others about Love Santa letters
Wonderful
I Found Love Santa Christmas 2022, I ordered 2 letters for my Grandsons and they were thrilled to receive them and I was very happy to see how lovely the letters were.
I will be ordering them again. Thank you.
Heather McNeil
My grandsons absolutely loved receiving
My grandsons absolutely loved receiving their letters from Santa today that the elf delivered. Thank you so much.
Keep the magic happening!
Paula Anne
My grandson was so excited
My grandson was so excited about writing to Santa so I'm grateful to my friend who recommended you. Than you so much!
Rina B
Thanks for the email, our
Thanks for the email, our grandchildren received their letters on Friday 2nd Dec & I can't tell you how excited they when they received them. Many thanks again
Deb
I just wanted to send
I just wanted to send a big thank you my sons letter arrived today. The letter is so well written and my sons face lit up.
Thank you so much. I've tried other companies previously and the letters are so standard but the Love Santa was more than I expected
Thank you again
Jessica
We received them Friday! Thank
We received them Friday! Thank you.
The letters are BEAUTIFUL! The kids loved them & they are hanging proudly near our tree.
Have a beautiful, safe festive season & a wonderful 2023.
Charisse
Best Santa letters
Best Santa letters my grandsons received!
Beautifully written and presented. Worth every $ just to see the look on there faces. The eldest who is 6 took his for news at school on Thursday, the other kids were absolutely smitten! Thankyou love Santa well done
Paula Anne
Love Santa brings joy every year
We order a Love Santa letter every year and our children are always excited when they arrive.
Our 10yo son thinks its cool Santa writes to him and always explains why he can't have an iPhone 😉 thank you.
Our 6yo daughter always puts the magical sprinkles out for the reindeer and can now read the letters herself. She is always amazed that Santa knows her family so well. They both treasure these letters and we really appreciate the absolute joy they bring to our children.
Thank you for helping spread christmas cheer to our family!
Wishing you all a safe and merry christmas!
Best wishes from the Snelgrove's 🙂
LENI BENTON
Over The Moon
Little Blake, who is 6 years old was sooo excited when he received his letter from Santa,
And we were Over The Moon to hear the joy in his voice on the phone when was telling us how Santa actually found him.
We would like to thank you very much for bringing so much joy to one little boy.
Merry Christmas . To All of You …
Ann and Ray.
Ray and Ann Jones
A little bit of magic
Thank you so much for sending a little bit of magic in the mail for our son. He loved it and had a laugh, as well as feeling special. For a family who is having a hectic, disrupted time, your service made it easy for me to take a job off my plate that I usually do myself. I wasn't disappointed. THANK YOU!
Janelle
Santa knows my baby!
In the words of my daughter, aged 7.5, "Oh, I love the PS – Santa loves babies just like me! Oh, and he says [my favourite baby's] name, too! He even knows about my challenge award and is proud of me."
A very excited little girl, jumping up and down as she read special parts of her letter from Santa, and giggles as she tried the tongue twister. Thank you so so so so much!
Akira
So realistic!
I have ordered Santa letters for my nephew every year, at different places, and this is the first one that actually used all the information I gave. It made the letter so realistic that I even forgot I ordered the letter.
Job well done! See you next year.
Dot Brown
Wow! Expectations surpassed ten fold.
My Mother and Father in Laws sent a Santa Postcard to my 2 girls over 30 years ago and when I saw your website I thought I would like to do the same for my 2 grandsons…
The letters "blew me away"
It was as if I had written them myself, from my heart. Even though I had ordered two, they were very individual and personalised, incorporating all the information I had given you, in beautifully written letters.
My grandsons looked amazed when they read their own letters and Santa knew that one loved footy and one loved soccer. Their mouths dropped open when Santa wrote that he knew they loved having lots of sleepovers at Grandmas and that they had a new baby cousin and even knew her name.
The tongue twisters, different in each letter, are still being practised and perfected accompanied by much laughter.
The lovely young man who answered the phone when I rang, to ask was it possible to have more space to include more family members was friendly and very helpful and quickly added more space for me.
The service all round was exemplary and far exceeded my expectations.
Thank you so much for giving my grandsons such a lovely Christmas experience and memory to be treasured. The looks on their faces was priceless!
I will sending them again next year and will include other children I know because I know they will love them too.
Di
Wonderful letters were perfect!
Yes my beautiful granddaughters recieven their wonderful letters from Santa.
Thankyou so so much they were perfect. I shall keep your address for next year. Merry xmas and happy and safe New Year to you all and thankyou again.  Regards Chris
Chris B
Two completely different letters!
I cannot even begin to explain the absolute joy on my children's faces when their letters arrived! I ordered a Santa letter and sibling letter, and they were both so beautifully written!
What I loved even more was that the sibling letter wasn't just a copy – each child received an individual personalised letter, worded differently from each other! I have been raving about these letters to everyone and will definitely be making this part of our yearly tradition. It was such a beautiful inexpensive way to bring a little bit of magic into their Christmas's. Thank you so much!
Shari
Loved our letters!
The letters have been received. many thanks.  The kids absolutely loved them – especially my eldest (who is 6).  She seemed to know as soon as she saw the red envelopes who they were from and couldn't wait to open it.  She loved the tongue twister the best.  The Christmas recipe and stickers were a nice touch. 
Many thanks and I will definitely be recommending you and using you again next year.
Regards,
Jodi
Jodi
Letters made me teary
All the children in my house received letters from Santa. Each one so beautiful and unique reflecting both the child and the world around them. I may have gotten teary – thank you Santa for your beautiful letters.
Jen
Jen
Felt more personalised
Hi, our letters arrived. It's been a great service thank you. They were very happy.
I'll definitely get you to do them next year too as it felt more personalised.
My daughter couldn't believe how much he knew. It was a priceless reaction as she can now read.
Funny story in regards to Santa tracking them down as I thought we were going to be elsewhere (so Santa's letter said he'd find us away from home!) and aren't so had some strange explaining to do…
Thank you so much for adding to the spirit of Xmas. These letters are also lovely keepsakes.
Julie
Julie
Will be recommending you to many!
Just wanting to confirm receipt of the 2 letters which were absolutely fabulous Thankyou!!
I will be recommending you to many, excellent service and a great price.
Thankyou very much!
Lisa
Lisa
Beautiful to see kids' faces!
Our Love Santa letters arrived promptly and the children were very excited.
Mum videoed Annika (soon to be 9) as it was priceless. She couldn't believe that 'he knows what I want. Santa knows' – it was beautiful to see her reaction.
Thankyou
Regards
Kerry
Merry Xmas to you too
Kerry
Beyond expectations!
Thank you so so much for the Santa letter.
Max is of course too little to understand it but we read it to him all the same. I was far more excited for him then he was.
It was beyond expectations and very very well written.
Hopefully you contact me for next Christmas as I will order again. Fantastic idea and very well put together. Thanks so much again
Nicole
Moved to tears
I ordered three letters for my grandchildren to be delivered to them in Sydney this year and I just wanted to write and say thank you.
My step daughter sent a copy of each of them so that I could see them. She was moved to tears by each of the letters, especially the detail, the way the letters were worded and the quality of the materials. Grace even asked how Santa knew her grandparents lived in England (we said it was because he knows everything!). I have to admit when I saw the letters they also brought a tear to my eyes.
So, I would like to take this opportunity to say a massive thank you for making 3 children, who are missing their Daddy very much at the moment, very happy.
A wonderful service and I would highly recommend your service to everyone!
Stephanie
Surprise and excitement!
The letters arrived and the kids loved them – my 11 yo was surprised with the info in it – she is on the cusp of the whole idea if you get what I mean – so thank you! Charlie wanted to reply and update his requirements.
Regards
Sam
Sam
All good!
The Love Santa letters arrived in a few days. The grand kids were thrilled.
Thank you
Carol
Carol
Very excited!
hello Elf Gerald and Elf Tash,
Lucas ,Talia and Alyssa have recived there letters end of last week and where very excited reciving them especially when they opened them up got also got a surprise with it.
thankyou so much and have a Merry Christmas.
Virginia
Virginia
Great timing 🙂
Thank you Joshua's letter arrived on Thursday which was perfect timing as it was the last day of school so Christmas was definitely starting & he loved it.
Thanks once again
Mandy
Mandy
Letters received
Received our letters on the 14th December, thanks! Skylar was blown away. Very happy with the service.
Sharon
We got our letters!
The kids loved them.  Conor, in particular, was freaked out by how much Santa knew, ha ha.
Megan
Our letters have arrived and Harry was very excited that they both got a letter from Santa.
Pauline
Super excited!
Declan received he's letter and like every year he was super excited and loved it.
Thank you for checking if he received the letter and thank you for helping to make this time of the year special.
Tarryn
Loved them!
Both my girls loved their Santa letters – thank you!
Kate
Thanks for the wonderful words!
Hello
Thomas has received his letter from Santa and was very happy!
Thank you for the wonderful words, we had one very pleased and surprised little boy who couldn't wipe the smile from his face! He is even more excited about Christmas now!
Kind regards
Tracey
Tracey
Fabulous letter!
Dear Gerald,
Thankyou so much for the fabulous letter you sent to my son!!
He is at that age where he is not quite certain about the reality of Santa…. but your letter put that sparkle back in his eyes!!
I am super impressed with your promptness! You were amazing!!
Have a fabulous Christmas……..I am sure you will need a well deserved break!!!
Have a great day!!
Karen
Karen
Excellent service
Just wanting to confirm receipt of the 2 letters which were absolutely fabulous Thankyou!!
I will be recommending you to many, excellent service and a great price.
Thankyou very much
Lisa
I have just ordered letters
I have just ordered letters for my grandchildren, H and E. I may have overpaid you $10 and if so, please donate to one of your charities.
Sue Richards
So beautifully written I cried!
Dear Gerald,
The letter to my granddaughter is so beautifully written. It will bring her
so much happiness. Thank you! You made me cry!
Have a beautiful well deserved Christmas yourself.
Anna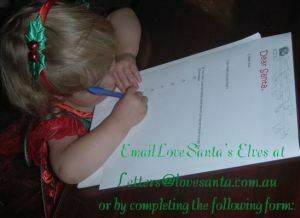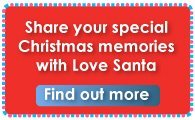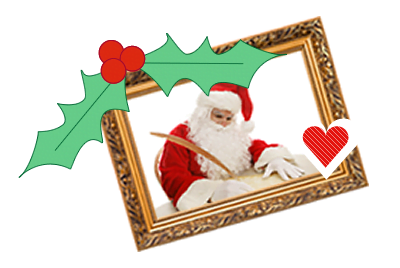 Privacy Policy
Under no circumstances, not even under threat of having to fill in for Santa on Christmas Eve, will your details of any kind be given, sold or lent to any other party.