by Louis Shea
Scholastic Australia, Lindfield, 2014
Age group: primary school
A book to be searched for Santa, Elvy and more, plus a 150 piece puzzle of the find Santa at the beach page.
The story
Elvy the mischievous elf took Santa's sleigh in a misguided plan to start Christmas early. Detective Inspector Scrooge, Santa, Mrs Claus and their pet Fluffy search for Elvy on a beach, at a carnival, in space and in a shopping centre – and readers get to find them all on each page.
My review
This was a fun book and I spent quite a while with my son looking for the specified pictures on each page.
As well as the images you need to find, there are numerous funny pictures to enjoy such as a sheep streaking across a game, an ice cream dropped on a sun baking woman, escaped turkeys and people riding jet propelled candy canes.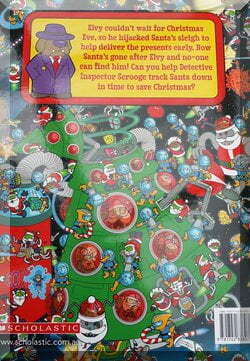 The puzzle is the biggest (in terms of number of pieces) my kids have tackled so it took us about 40 minutes to complete it. It's not an easy puzzle in that there is so much colour and action across the picture that it takes some effort to piece it together – but I love the challenge of finding bits so that is not a negative for me! Alone, I think my seven year old could have done the puzzle, it just would have taken him a lot longer!
Note this set is related to the Where's Santa in Australia? book.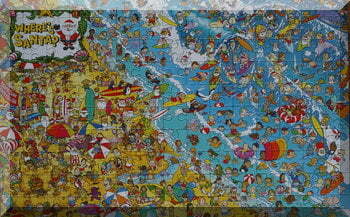 The completed puzzle, showing Santa and friends at the beach