by Jackie French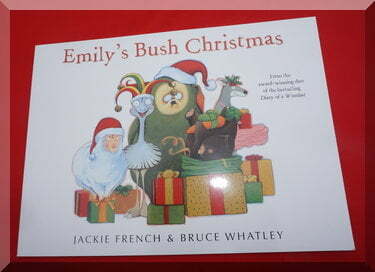 Illustrated by Bruce Whatley
published by Harper Collins, Sydney, 2008
Age group: preschool to mid-primary
Coming from Jackie French and Bruce Whatley, you already know this book will be fun, child-friendly and accurately depict Australian animals.
The story
It's Christmas Day in Shaggy Gully and most of the animals are having fun, but Emily Emu is concerned that Bunyip isn't having fun so everyone tries to make Bunyip smile.
My review
It's a fun book, with lovely images of bush animals – including the familiar faces of Josephine the dancing kangaroo, Pete the sheep and the diary writing wombat.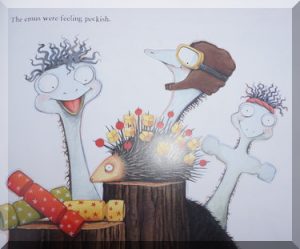 Bunyip is grumpy so does not appreciate the attempts of Emil and her friends to cheer him up – "Bunyips DON'T like Christmas!" – yet Emily keeps on trying.
It is a fun story that shows care for others and blends in the major features of Christmas (food, presents, carols, togetherness).
Both my children enjoyed it – my son's favourite parts were the echidnas (one was wearing a swimming ring while another read the safety rules!) but was disappointed the Bunyip didn't have bits of all Aussie animals such as a 'roo tail. My six year old enjoyed it but when asked if it was because of the Aussie animals, she said "No, it was about Christmas!"
And to ensure adults can also enjoy this book, there are some jokes hidden in the pictures (like an Emu offering flying lessons!)