by Fiona Watt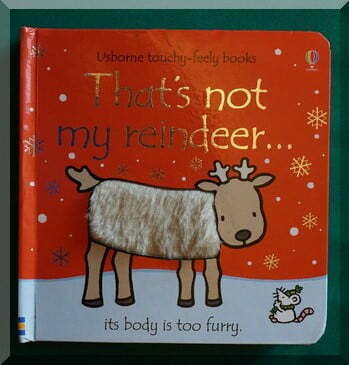 Illustrated by Rachel Wells
published by Usborne Publishing, London, 2007
Age group: baby to toddler
A Christmas addition to the "That's not my…" series of books, my children and I enjoyed reading this together. My family has long loved this series of books, starting with the 'that's not my monster' given to my son as a baby. We've even played 'that's my …' as a game on long drives! So I could not resist That's not my reindeer when I saw it in a shop 🙂
The story
A series of reindeer are shown, each with an explanation of how it is different to 'my' reindeer. Each page has a different texture included for little fingers to explore.
My review
It is a board book, with large, colourful images and a short, repetitive sentence on each double page spread. To make it even more appealing to young children, each reindeer has a touchy-feely component such as the soft fur on the front cover and some sparkly bells. This is a great way to teach some vocabulary as they see and touch something while hearing the word.
There were no surprises in the book for us, and it obviously doesn't have a complex plot to comment on, but we all enjoyed it anyway – and my six year old liked being able to read it herself. It is not overtly a Christmas book, although there are some fir trees in the background, so it can be enjoyed all year round. At 6 and 7, they questioned how bells can be too sparkly and instantly took the red nosed reindeer to be Rudolph – and their favourite!
Definitely a nice book for a baby or toddler, and likely to be enjoyed long past two or three years of age. I'm glad I grabbed it! I thoroughly recommend it for anyone after a baby/toddler Christmas book.