Start your Christmas kit gifts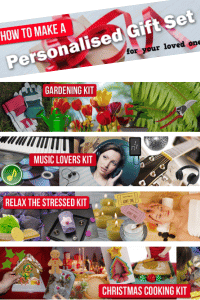 There is something very special about making a gift for someone at Christmas – or for their birthday or other occasion, for that matter.
Yet many people don't make gifts on the mistaken belief that it is something only crafty or artistic people can do. While many of us couldn't paint a beautiful artwork or sew a comforting quilt, we can make gifts for those we love, and can even tailor those gifts to their taste rather than our abilities, too.
Gift kits
Food hampers and craft kits make great presents for Christmas. There's the excitement of the gift itself, but then there are components within the set to discover as well!
But why limit yourself to shop-made gift sets or food crafts and toiletries?
This Christmas (or Mothers Day, Easter, birthday or other celebration!) try making some gift sets based on the interests and tastes of the person you're making a gift for.
Great idea but what do I add to a gift set?
To make a gift set, you need three key ingredients:
a topic or theme to work with (eg sports, gardening, art, Christmas cooking)
a way to package the things in the set
a number of items or components to put in the set
But if you're stuck for ideas or have no idea about the person's interest (it's hard to make a set for a baker if you don't cook!), we have put together a heap of ideas for you.
The Love Santa How to make a personalised gift set for your loved ones has set suggestions for nearly 30 interests! Each set has ideas for presenting the set as well as things to put in the set.
It's up to you – use the eBook for inspiration or follow it strictly, or find a comfortable point in between!