Christmas is celebrated differently between families; each family having different rituals and traditions that are passed down over the years.
Some people open presents on Christmas Eve, some on Christmas Day and others after Christmas.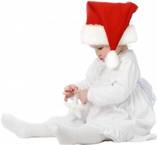 And others dance around their tree and sing songs as part of their celebrations.
My family doesn't even have a tree at Christmas, we decorate the fireplace and chimney!
Though it is for the same thing, each family celebrates this day (well month really) in slightly different ways.
I'm curious as to what other people do – are we the only ones without a tree?
* Image courtesy of 123rf