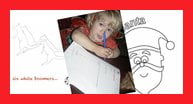 In the lead up to Christmas, young children are very excited and often need more activities, attention and distraction – while parents needs kids busy so they can get things done!
Here are a few activities (additional to those in Santa's letters) that may entertain your kids while they wait for Santa to arrive on Christmas Eve:
 Santa's face colouring in page
 Six white boomers colouring in page
 a printable colouring-in book about Santa train (for early readers – they'll get skills from it)
 a pop up Christmas tree card or mantlepiece decoration
 play games and see what's happening with Santa's preparations to fly Downunder
 cook some yummy treats for the family – just to check they're ok to leave out for Santa to snack on!
 go and see some Christmas lights or Myer (and other) store windows
 try some new Christmas craft ideas
 tell some Christmas and Santa jokes and fun stories
 set them up on the computer and play some Santa games
 write letters to Santa – even if they've sent a list, let them write a friendly letter to Santa for fun (and good manners!)
 teach them some Christmas tongue twisters…
 listen to the story of Kris the Moose (although disappointing that the Boomers are ignored 🙁 )
 together, read Santa's letter to the world (it's about Santa and fun but also has educational and making-them-think elements)
If you have some other good ideas, please share them here as we all need help and creativity for our kids at Christmas!