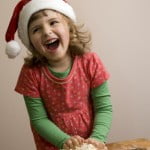 Santa understands that it can take a very long time for Christmas Eve to actually arrive when you're little so after he signs his letters Love Santa he turns the page over and writes a bit more.
Back in 2009, this is part of what Santa wrote on the back of some letters:
I travel a lot on Christmas Eve and it is really special when I arrive to find something made by children just for me. These apricot balls are very yummy – and if you make enough, you could wrap some in cellophane to give as gifts as well as leaving some for me!
You will need: 400g condensed milk, 250g Marie biscuits, 3 tablespoons fresh orange juice, 1 cup desiccated coconut, 1 cup chopped dried apricots, ¾ cup chopped pecan or cashew nuts (optional)
What to do:
Mix everything together.
Roll into balls
Roll the balls in extra coconut, sprinkles or sesame seeds if you want
Put the balls in the fridge to set – you can even freeze them!
These apricot balls are very yummy so why not try them while you're waiting for Santa and his letter to arrive? If you have made anything Santa has suggested, let us know how it turned out!
And don't forget to look for many Christmas recipe ideas here in our blog!
* Photo courtesy of 123rf