Who do your kids specifically give gifts to?
I remember as a kid that we only gave gifts as a family, but I know that my kids give some gifts from them, not the family.
Why gifts from kids?
I like my children to learn that gifts, and Christmas, are about giving and not just receiving. I want them to be generous and learn the pleasure in giving to others.
It's also important to teach kids gratitude and appreciation. Which can't happen if they just get gifts and never return the gesture.
So my kids give presents to certain people. And by giving, I mean their name(s) is on the card and they physically hand the gift over.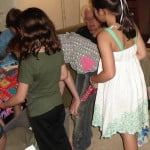 For instance, they give presents to their grandparents to show that gift giving goes two ways. Often this is a token gift* or something they have made themselves as the point is the giving.
Who kids give to
Obviously it varies between family situations, but to give you the idea, my kids give gifts to their:
grandparents and great-grandmothers
scouting leaders
family day carers
siblings
parents (yes, we get Christmas and birthday gifts from our children)
Have I missed anyone your kids give gifts to? Do your kids enjoy the gift giving as well as getting gifts?
* We usually give something bigger to grandparents as a family, too.