If you are in Melbourne and like Christmas, visiting the Boulevard in Ivanhoe is a must.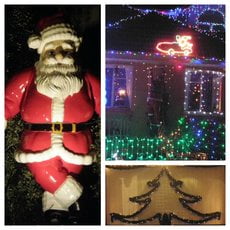 This is not about one fantastic house of lights, or a couple of hours near each other. It is a street full of lights with a few houses nearby!
Drive along the Boulevard
One option is to drive along the Boulevard, entering from Lower Heidelberg Rd. The street is officially blocked to incoming traffic at Burke Rd during December and early January so the street is one way.
A lot of cars travel down the road in peak times (ie in the first couple of hours after sunset) but they move at a crawl so there is time to watch the lights and decorations as you pass. It is probably the rare event of crawling traffic that no one minds being stuck in!
It is about 3km from start to finish for the lights. True not every house is decorated, but more than 95% are so there is a LOT to see!
Walk along The Boulevard
Your other option is to walk along the road – we walked most of it last night (the kids got tired so we skipped the last stretch).
As the traffic is flowing one way, very slowly in one lane, it is safe enough to walk along the street , and occasionally step back to see things from a bigger perspective.
Most people walk the same direction as the cars – everyone going the same way makes it easier to stop and gaze at places that take your fancy.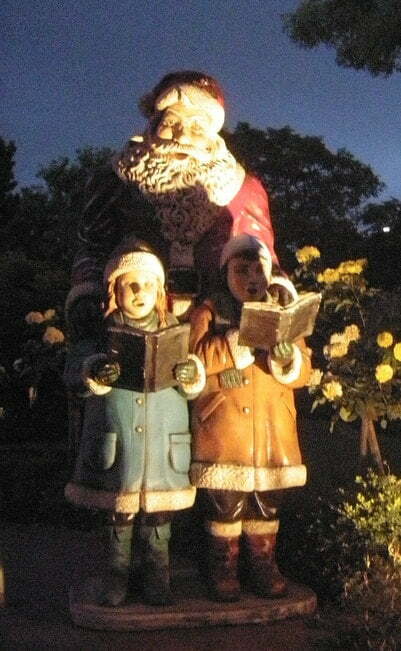 One advantage to walking is that you can see more than the main strip. A couple of courts and streets off The Boulevard are also well-lit and it's easy to divert and see them when you are walking – the cars miss these side streets.
Walking also means coming through other side streets to reach the Boulevard from wherever you manage to park.
We loved the classy decorations on the corner of Warncliffe Rd and Wallis Ave – it's a gorgeous house with a large front lawn decorated with a Christmas tree covered in lights plus some large characters (Santa included).
What to see…
There is no way I can describe every house for you!
Although the street is united in decorating their houses, there is no consensus on how to decorate so there is an incredible array of Christmas lights and decorations.
Some houses have a few subtle lights, some are ablaze with light; some have many large inflatable or plastic ornaments, others have only lights; some are themed or use a single colour, others are full of colour.
A few have a nativity scene (and one is basically only a huge nativity setting), many have Santa and one house has Santa on the veranda serenading all who pass!
Have you been to the Boulevard?
Can you remember any specific parts that you loved – or didn't love?