by Lachlan Creagh
Hachette Australia, Sydney, 2015
Age group: primary school
The story
Based on the night before Christmas poem, this tale is about wombat trying to making Christmas beautiful for his friends. He cook, decorates and works hard to find the perfect gift for Emu.
My review
I really enjoyed this book – it has lovely pictures, is truly Australian and has a lovely story. It's short – it is a picture book after all! – but no less worthy of being on a Christmas bookshelf for that.
My seven year old read it to his sister and I and we all enjoyed it. Watching wombat consider various options for Emu's present is both fun and a reminder to get on with our own gift shopping! However, the final gift is thoughtful, affordable and a great example to set for young children.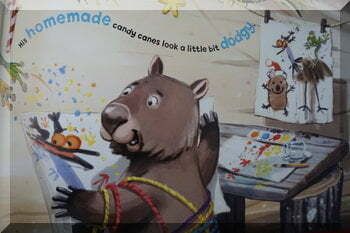 There are a number of other Wombat books by Lachlan Creagh, and I may just be tempted to get some of them based on our enjoyment of this one!