by Val McDermid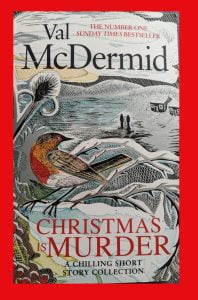 Sphere, London, 2020
Age group: late teens – adult
Format: 256 page softcover
Whilst browsing a 5 storey bookshop in London (yes, genuinely 5 stories – it was fantastic!), I spotted this collection of short stories by an author I like. And I'm glad I grabbed it (despite having to lug it around in our travels!)
The story
There is no single plot, given it is a "chilling short story collection", but there is a definite common thread of murder in the dozen stories by Val McDermid.
I have read a few of McDermid's books in the past, and this collection was a chance to see her skills beyond a crime series.
My review of Christmas is murder
Lets start out by saying I prefer novels over short stories as a rule – I like the additional depth of story and that it lasts longer. Yet I really liked this collection and, for the most part, I think each story was complete – a couple of the stories could be extended into longer versions, but they all work.
I was pleased to see how many different ways Christmas was incorporated into the stories – the murder of Santa (spoiler alert – he is ok by the end), Christmas as one celebration in a series, hearing of a crime on Christmas Day, and more. However, the last half of the book has nothing to do with Christmas which surprised me.
Most of the stories are stand alone, but there is one with Tony Hill and Carol Jordan (from McDermid's Wire in the Blood series) and one with Sherlock Holmes and Watson, plus Mrs Hudson.
This is most definitely an adult book – the murders and adult themes included are not child friendly. Having said that, it is not a particularly gory or graphic book.
Would I recommend it? Yes, I really enjoyed Christmas is murder, and am very happy to recommend it to others. Not for children though 😉