Better Homes and Gardens Christmas 2015 magazine Review
Pacific magazines Pty Ltd, Eveleigh, NSW
editor Julia Zaetta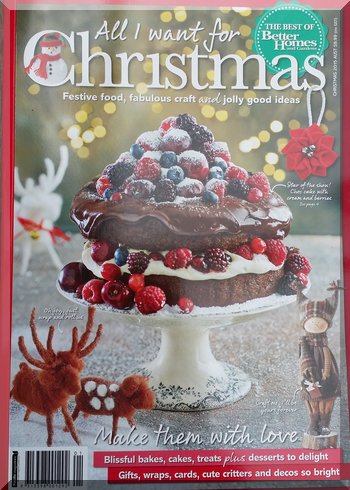 As I'm always interested in Christmas ideas, crafts and recipes, I decided to buy Better Home & Gardens' (BHG) Christmas special this year. And in case anyone else isn't sure whether or not to get it, I am sharing my thoughts about it here. 🙂
Okay, so to cover the basics, it is basically the same as any lifestyle magazine (in that it has articles and recipes) but has Christmas as the sole theme. It is 145 pages long and has some beautiful images and layouts. Being Australian, it is both relevant and approachable (for instance, the recipes are in metric).
Crafts and cooking
For the crafts, there are pages of pictures of beautifully made items with the instructions for making them further on in the magazine. This arrangement is pretty but a little frustrating as you try to link images with instructions and materials to decide if it is something you could make with a five year old. The same approach is used for Christmas meals and treats – the recipes are not beside the main pictures.
I haven't yet made any of the recipes in the magazine but some in particular look delicious. And they seem as easy to use as most magazine recipes.
However, I have read through a number of crafts in detail and worked on two of them with my five year old daughter. I was quite disappointed at the degree of difficulty in using the instructions as not every step is explained and some knowledge is assumed. The instructions, and the crafts themselves, are not aimed at children – I can see the value in aiming at adults to do a 'nice' Christmas items, but I am also aware that kids love making things and that it is a great time for adults to make things with kids. Perfection is not the ultimate outcome to my thinking – it is the doing, the thought and the resultant price that matter.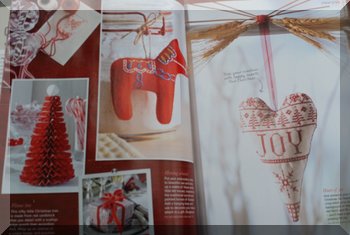 The poinsettia wreath was particularly difficult to follow as it makes use of flowers made in another part of the magazine. Just assessing how much material was required took a while.
The little Santa bags were cute in the magazine and when we made them. Again, the instructions were not as clear as I'd have liked and I had trouble finding all the materials (so adjusted it to suit).
Christmas ideas
Throughout the magazine are various themes for decorating a house for Christmas. This includes ideas of how to add some Christmas touches, things to make, wrapping ideas and tips for setting a beautiful Christmas table.
I was pleasantly surprised to find that there are not many ads in the magazine – mostly just on the covers, plus a list of stockists that is somewhat generic at points.
So if you are after inspiration, just like looking at beautiful Christmas photos, are an experienced crafter after new patterns, or you want some new Christmas recipes, you may just enjoy this magazine. But it certainly isn't aimed at young families or novice crafters.