Should shops always have traditional Christmas displays, or is a modern interpretation ok?
Updated mall displays are controversial?
I came across an article entitled "You'll never believe the newest Christmas controversy".
In short, a chain of American shopping centres (malls) has decided to modernise their Christmas decorations around where Santa sits. Apparently, they're swapping traditional details like trees and wreaths for a winter wonderland feel.
Ok, winter is not a theme that says Christmas to us Down Under, but using interactive screens and a light show could be interesting. And from a business perspective, it could make their malls stand out as fresh and different.
But shoppers disliked it so much that the malls reverted to Christmas trees and poinsettias.
How should shops display Santa?
There is a lot to be said for the traditional decorations. It continues a tradition, obviously, and helps people feel the Christmas magic they experienced as kids, and lets parents share that same magical experience with their kids.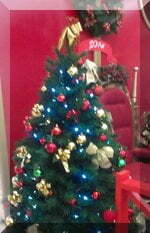 In particular, displays around Santa and that end up in Santa photos probably are better keeping a somewhat traditional feel. Who wants to look back on family photos and have one or two photos stand out as dated rather than Christmassy?
Of course, when it comes to the crunch, as long as a smiling Santa is there and children feel safe and welcome, the background is just that – background.
Shopping centre decorations
I like seeing shopping centres (including strip shops and council buildings) having some different themes for their decorations. For instance, I've seen some beautiful silver and purple themes which are stunning.
So I think perhaps the Santa seating area needs to have many traditional elements. But other decorations can be modern, classy, traditional or just interesting!
Would you agree with me?
How would you react if your local shops used a modern approach to decorations around Santa this year?