by Louis Shea
Scholastic Australia, Lindfield, 2015
Age group: primary school
Santa travels around Australia, providing a page for each state for us to search for Santa and other characters.
The story
It's almost Christmas and Santa drops in to visit his cousin Barry in Australia. Unfortunately, Bluey the dog 'catches' Rudolph's red nose magic and shares it around. The animals fly off around Australia, dragging Barry's grandkids with him. Santa and Barry therefore try to find the kids, while the readers get to look for all of them in the pictures.
My review
We had a lot of fun with this book – the two seven year olds spent at least half an hour searching pages for the listed characters, while the two five year olds lasted for about half that. And all four of those kids have been back to the book more than once to find more things.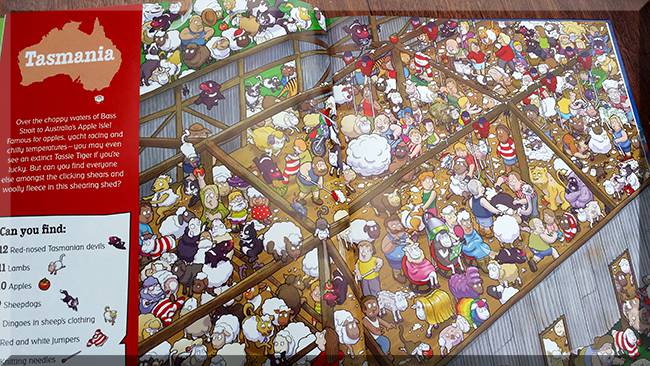 We all enjoyed the amusing pictures themselves – for example, on the Tasmanian page you can see noughts and crosses on a sheep's flanks, a sheep knitting, wolves in sheep's clothing and sheep getting salon treatments! And I liked seeing the pages being themed to the state, like apples for Tasmania, opals and underground homes for South Australia, various sports for Victoria and hot air balloons for the ACT.
I liked the fact that there was a story rather than just pages of searching for things. I think the story helped the kids keep interest and find so many items on each page because they were characters in the story (as well as page specific items).
There were also amusing little touches, like naming the kids Kylie and Jason, Bluey the red healer and cousin Barry in his blue singlet calling Santa 'Clauso'. Add in Santa trying to lose his jar of Saltymite while Barry looks for his favourite blue undies, and there's plenty to keep you amused! Of course, much of this may need an Aussie sense of humour…
So this book has a lot of fun, a story and helps kids be observant and remember the details of what to find. I think pre-schoolers can enjoy the pictures and story, and teens and adults can have fun with it. Primary aged kids will love it so I thoroughly recommend it 🙂