This is based on a recipe I used for my daughter's Frozen party last year. We thought it would be fun to create some red and green trolls to help us have a delicious Christmas, and it was worth the experiment as they tasted yummy!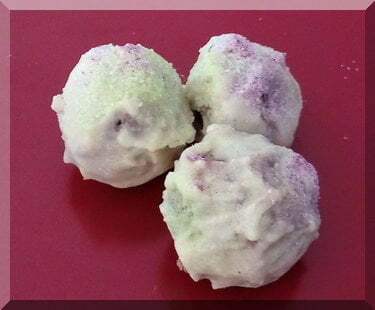 Christmas trolls
Ingredients:
400g chocolate chip biscuits (about 2 packets)
250 g cream cheese, softened
3 Tablespoons dried cranberries
200g white chocolate (a bit more would be easier but 1 packet will just make it!)
red jelly crystals (most actually look pink or purple)
green jelly crystals (we used lime)
Method:
Crush the biscuits into crumbs (use a rolling pin to smash them or a blender – I used my red hand blender from Tupperware).
Add in the cream cheese, cranberries and 1 tablespoon of green jelly crystals, and mix until they are all blended together.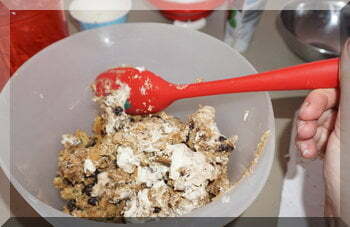 Form the mixture into balls. Ideally, put them in the fridge for a little while as it makes them easier to work with if chilled.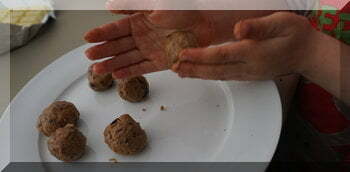 Melt the white chocolate in a small bowl.
Roll each ball into the melted chocolate until it is covered.
Roll the ball in jelly crystals – you can make some balls red and some green, or use both colours on each ball. This is the messy bit, especially if little hands get involved 🙂
Pop them on a plate and the leave the plate in the fridge for half an hour or so to set.
Gently break off any dripped chocolate to make the tolls look nicer. remember to store these in the fridge (if they last that long!)
Alternatives:
To add more Christmas colour to the balls while eating them, you could also mix in some cut up green lollies (spearmint leaves would give a minty taste, while jelly babies or snakes would add sweetness and texture).
Instead of rolling the balls in jelly crystals (which give colour and glisten), you could try
adding food colours to the melted chocolate (use cake decorating quality dyes or it will set the chocolate)
using red and green sprinkles (1oos and 1000s) to roll the balls in
leaving the balls white and sticking some red and green on top like holly (as we did in the Christmas Royal puddings) and call them Christmas presents or Christmas puddings!
These are yummy so I hope you enjoy them as much as we did!