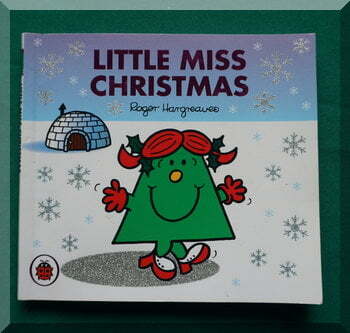 by Adam Hargreaves
from concept by Roger Hargreaves
Egmont, London, 2005
Age group: preschool
I recently rediscovered this book in our attic, so I read it a few weeks ago with my kids on a drive to a family outing, when Christmas still felt a way off!
The story
Santa's niece, Little Miss Christmas, has the important job of wrapping the presents for Santa to deliver. However, she decides she wants a break so Santa and Mr Christmas have to wrap presents instead.
My review
This was typical Mr Men/Little Miss book and enjoyable to read together – my six and eight year olds both enjoyed it and said it was fun.
As well as being fun, I found that this book was good for starting conversations and thinking. For instance, I was able to get the kids to predict the next step of the story when Santa and Mr Christmas got distracted. Then we talked about whether doing jobs straight away was a better choice and a better way to care for Little Miss Christmas.
It took a team effort at the end to get all the gifts wrapped in time for Santa to leave the North Pole, which was a nice message and had the amusement of how different characters 'helped' with the wrapping (Miss Nasty had to be supervised and you can guess how Mr Messy went…).
However, Father Christmas and Mr Christmas hadn't learned their lesson which was a little more disappointing – and didn't make my kids laugh either. Readers could be left with a worry that some presents may not arrive on Christmas Eve if Santa and the reindeer take off late – I covered that up with the idea that Australia is so early on Santa's route that he would not miss our place on Christmas Eve!
So this book was fun with a bit more depth than most of the Little Miss books, and can be enjoyed by a range of age groups.