by Sarah Powell
designed by Emma Jennings
St Martin's Press, London, 2014
Age group: preschoolers
Size/format: board book
A cheerful looking baby book full of Christmas images that we gave to a young friend last Christmas.
The story
A search and find book for babies and toddlers. There's no story as such!
My review
This is a very cute book, enjoyed by adults and loved by the one year old we gave it to. Not surprisingly, it is very simple given the age group.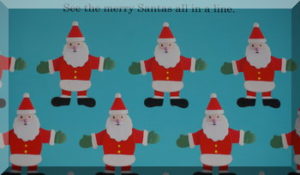 There are seven sets of images (such as Santa and some Christmas stockings) where one image is a little different to the others. There is also a teddy bear 'hidden' on each page.
It is a lovely first book, and could be read throughout the year, not just at Christmas time.
Would I recommend it? Absolutely – it is lovely and develops observation skills as well.