Have you ever heard of a Christmas tree festival?
What is a Christmas tree festival?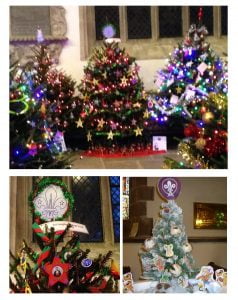 Apparently fairly common in England, and perhaps all of the UK, I have first heard about these in the 2016 Christmas season.
Luckily, Ellie T of Bicestor, Oxfordshire, was kind enough to explain them to me and share some photos of the festival she was involved in with her scout group.
Basically the local community come together to make a gallery of decorated Christmas trees. Usually in a church, local businesses, clubs scout groups, guide groups, schools and the like each pay for a tree and then decorate it however they wish. People then pay a donation to come and visit the gallery of trees, and all proceeds are directed by the involved church.
Ellie told me "they seem to be quite popular at the moment. We had to pay £19 for the tree and then decorate it. We can make a further donation to keep the tree or the church sell it to make a few more pennies. There were 80 trees in total for 2016 at St Edburg's Church.
"The church also has a baptismal tree with a note of all the baptisms this year and a memory tree. They provide gift tags and you can write a message for a loved one no longer with us."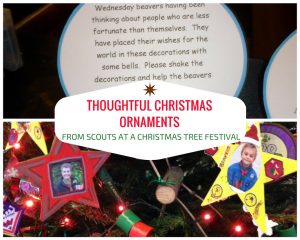 I think it is a lovely idea. It would probably take a bit of effort to get one started in Australia as people don't know about them – maybe they could be near some of the popular Christmas light displays!
Ellie also mentioned that she "came across a small chapel which was decorated with wreaths rather than trees! There were 80 of them also!"