This year, I decided on some decorated glass baubles for my daughter to give to her classmates – we usually make something rather than just giving the kids another candy cane!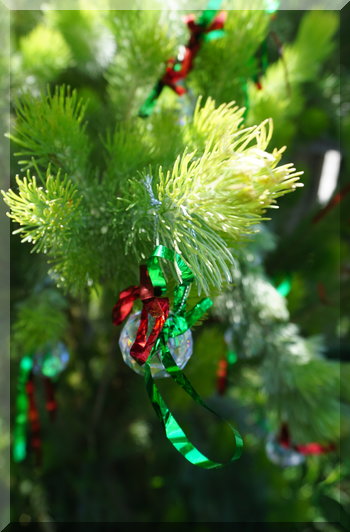 Shiny bauble materials
I got the idea by seeing some pretty glass baubles on a clearance table at Westminster Christmas shop.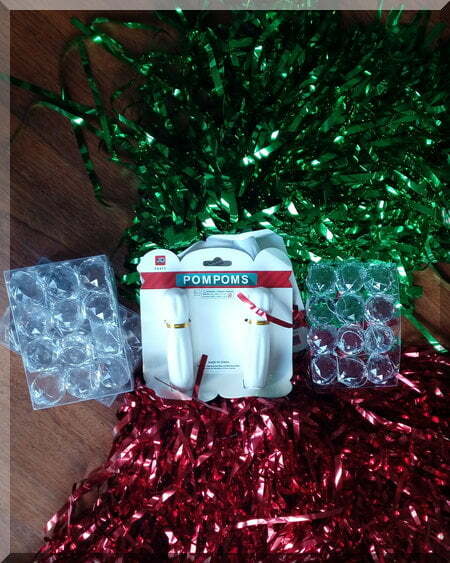 In looking for some ribbon or tinsel to use for decorating the baubles, I discovered some shiny red and green cheerleader pompoms in a discount store! This made things really easy as we only needed to pull off a length of ribbon instead of having to cut anything up (and given there are 31 children in the class, it would have involved a lot of cutting!)
Making the baubles
Very simply, we took two green and two red ribbons and tied them onto the bauble's string, resulting in shiny decorations!
My tip is to use baubles that have a fixed string – the ones we had just had string tied in a loop so it moved around as we worked, making it a bit more challenging.
As it turned out, this activity required quite a lot of fine motor skills so I ended up helping the kids and then making many of them myself. So it was a simple idea but not so easy to implement, unfortunately.
Finished decorations
I think they look very pretty, though, especially when sparkling in the sunshine.
What do you think – pretty? shiny? Christmassy? Will you try making some?