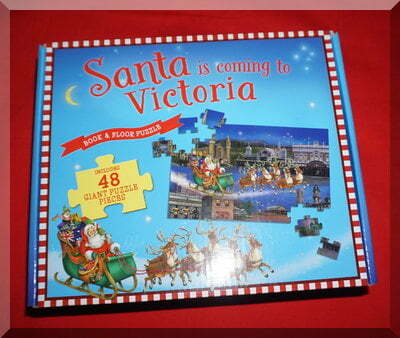 It is very exciting to find personalised things, so books about Australia (and more specific areas I know) always catch my eye and make me smile. And I know my kids love seeing Aussie Christmas stories and images.
I have previously reviewed the books Santa is coming to Australia and Santa is coming to Melbourne, but now here is a jigsaw puzzle based on the Santa is Coming to Victoria book of the same series.
Santa is Coming to Victoria puzzle
The puzzle comes in a sturdy box with a handle so you can store it fairly easily, which is always handy.
It has big pieces which are also sturdy and made of thick card, so it will survive many uses and the curiosity of little hands.
I had a lovely surprise upon opening the box and finding a miniature version of the book in the box as well (ok, it is written on the box but I hadn't remembered that!). So we read the story before attempting the puzzle which helped bring the picture alive even more.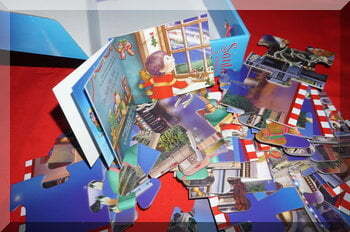 Putting the puzzle together
Although I expected it was too young for him, I did with the puzzle with my nine year old to see how it went, and whether it was suitable to give to a two year old. We did it fairly quickly but he made some mistakes in the side pieces so it's not overly simple.
It is harder because the image is a collage of Victorian landmarks so the top of a building, for example, may not be at the top of the completed puzzle.
My son absolutely loved spotting places he knows. And I enjoyed being able to name the places as we put the puzzle together, too.
Overall, this puzzle is probably best for 3.5 and up, but still fun for 8-9 year olds. It will excite Victorian children, and I daresay the equivalent puzzles for the other states and cities are similar in style so they can have their local excitement, too! It is also a nice gift for someone travelling to Victoria now or next year (a good preparation to do the puzzle ahead of arriving!)