by Rod Campbell
Macmillan Children's books, London, 2004
Age group: 2-4 years
Format: small, soft cover
From the creator of Dear Zoo and It's mine comes a lift-the-flap Christmas story.
The story
Santa tries to find the perfect gift for our narrator, going through a few ideas first.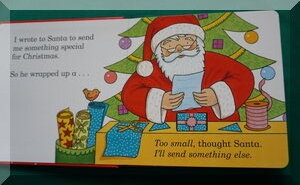 My review
Obviously there is a simple plot, being a board book, but there is a happy ending and it all works together nicely!
Dear Santa - more than just a cute lift-the-flap book
Click To Tweet
This book has opportunities for children to learn adjectives, such as small and messy, use fine motor skills to open flaps and relate to the story through items they may have or want. I like that it also opens up conversations about what a child wants for Christmas (just as a conversation or maybe as a catalyst in writing a letter to Santa) and a discussion on choosing gifts for others – it is about what they really would appreciate, not what you would like, and that is an important lesson in empathy and emotional intelligence for children.
The pictures are clear and colourful, and the book is well made so the flaps should last many openings by little fingers (the card is thick enough they won't accidentally rip them the first time the book is read, and possibly not even deliberately).
I like that Santa is shown as working hard to find the perfect gift – caring for others takes effort – and am amused that even Santa is finishing his Christmas gifts and wrapping at the last minute! You could say there is a message to kids about not leaving things to the last minute, but I think it is there to relate things to Christmas more directly and to give adults a laugh as they read and reread this book to toddlers!
So do I recommend Dear Santa? Absolutely! This is a beautiful, interactive and fun book for toddlers – and those of us a bit older as well!