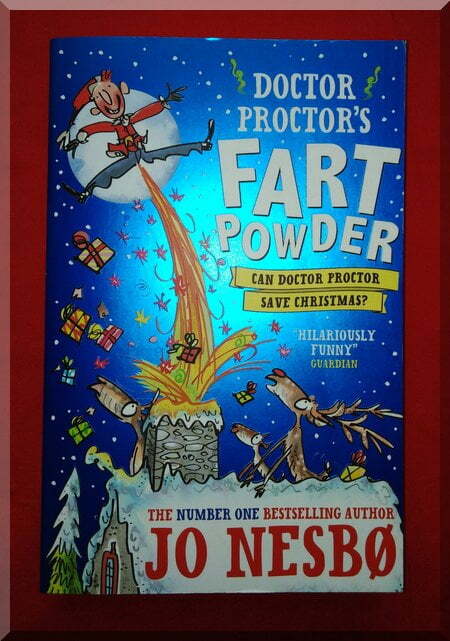 by Jo Nesbo
illustrated by Mike Lowery
Simon & Schuster Childrens Books, UK, Nov 2017
Can Doctor Proctor save Christmas was recently (2 October 2018!) been released by Aladdin paperbacks as Silent (but deadly) night with more illustrations by Mike Lowery
Age group: 7 to 12 years old
Format: 24 page paperback
My family loves Jo Nesbo books – I read his crime books and my children laugh at his Doctor Proctor's Fart Powder series! So we were very pleased to find this Christmas Doctor Proctor book was added to the series..
The story
The King of Norway sells Christmas to Mr Thrane, who bans Christmas from everyone unless they spent lots of money in his stores. Nilly, Lisa and Doctor Proctor want to save Christmas…
My review
Farts, inventions such as fart powder, school bullies, Santa, flying reindeer, annoying robots, secret passwords – how can any child resist this book?
Fourth in the Doctor Proctor series, this book is well written, funny and entertaining – and my kids enjoyed it too! It is a kids' book so it is easy enough to follow without reading the other books, although the characters will be more familiar and the background clearer if they are all read in order – it is sometime since I read the first book with my kids so I had forgotten most character names and had no memory of Juliette Margarine, but I had no trouble reading the book and understanding everything.
You may be wondering about the series connection and, if you don't have a flying sleigh, how can you possibly get onto roofs to climb down chimneys? Well, you use Doctor Proctor's fart powder of course! Simply take a spoon full then use the fart to propel yourself onto the roof and off you go, delivering gifts! This, of course, is a hilarious highlight of the book for youngsters.
One word of warning – there is a lot of 'do you believe in Santa' content in the first third of this book. It clearly implies that older children and adults don't believe, and that Norwegian fathers usually play the role of Santa on Christmas Eve, so this may raise questions in young readers. The book follows through with Doctor Proctor saying "I don't believe Santa exists – I know he does" and then we meet Santa in the story – but not entirely the happy, red clad Santa we usually know and love. As an adult, this is not a problem but just be careful of what children are ready for when giving them this book.
The story moves along nicely – there is danger, adventure and surprise, but never any dull sections I felt like skimming over. And, despite being a kids' book, it never felt predictable as you wondered what would happen next. There are a number of mentions of Australia – the reindeer are hidden down under, we have strange animals and we may have BBQd a Christmas icon…
There are some Norwegian traditions mentioned along the way, too, such are rice pudding, gnomes, leaving rice pudding in a barn, and calling the 23rd of December Little Christmas Eve. I enjoyed learning about these traditions, too, especially in a fun way. Christmas Eve is the big day in Norway – Christmas Day is quieter and somewhat private.
I do like the acknowledgement of nice children (and reference to Santa's nice-meter) and a scene where Doctor Proctor helps the children build a positive mindset. Doctor Proctor tells the children to remember and delight in old adventures and remember that everything is a new adventure that could turn into something wonderful. They also have a conversation where Lisa comes to realise the real Christmas gifts she has (like keeping her nice home and friends). It is done in the context so it didn't feel like moralising either.
Absolutely! It is a lot of fun, has a good dose of Christmas spirit and enough depth to be interesting to all age groups. Just remember my earlier warning and that (spoiler alert, sorry!) Santa has a number of children without there being a Mrs Claus in this story – decide if these are an issue for your children, but otherwise they will love this book!