We did of course have our usual search for Tinkle this morning, just to find her in the lounge room trying to sneak a peek at tonight's advent calendar items! I just didn't get it posted this morning because, well, it's Sunday and a bit of variety is a good thing, right?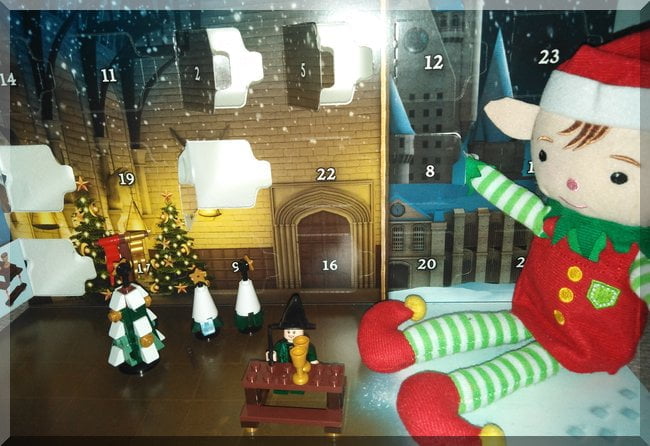 Not only is her hand inside the Harry Potter Lego advent calendar, but we can see the flap for day 8 in the City Lego advent calendar has also been pushed in a bit – cheeky elf tried peeking at both calendars!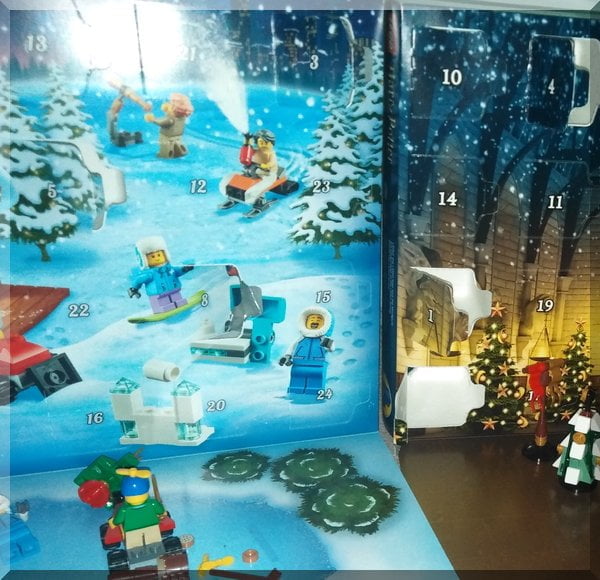 Lego advent calendars for 2019
Although I haven't done daily posts this year, we do have two Lego advent calendars on the go – my daughter has the Harry Potter one this year (the Friends one seems to be hit and miss so we may as try something exciting!) while my son has the City calendar (which he is happy with but also a little jealous to not get the Harry Potter version!)
This set is exciting as it's new and different, and because it is a character and book/movie series my kids enjoy (as far as they have got anyway – we limit them to those we feel they are old enough for so they only know the first three books/movies).
The scene is obviously the great hall at Hogwarts.
Day one was a harry mini fig, followed by Professor McGonagall on day 6. Hogwarts Express (the train) was behind flap two, and I even got to make that one.
My daughter was thrilled to get two Christmas trees on day 3 and then a fancier Christmas tree on day 4 as well! This advent calendar is making her much happier than the Friends calendars so it was a good choice for this year.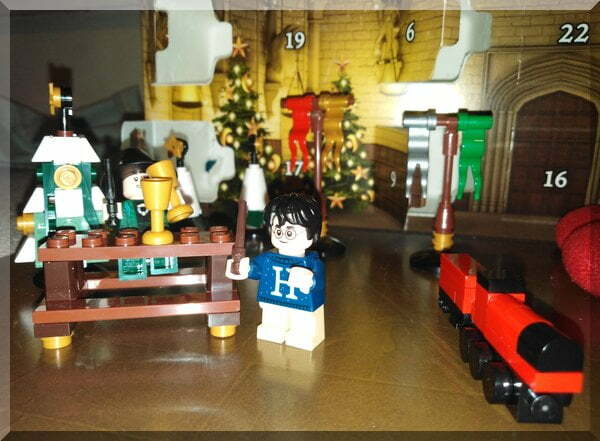 The Gryffindor flag pole is nice and I love the bench as it truly invokes images of the students gathering in the Hogwarts great hall. Harry and the Professor sitting there with goblets in hand also reminded me of drinking butter beer in the Three Broomsticks Inn!
Note the Slytherian flags are actually from day 9 as Tinkles was in the way to my daughter getting out the day 8 item! We just swapped for today!
Like most years, the City calendar has a winter and snow theme – it would be nice to see that changed up a bit next year but I'm not holding my breath!
This calendar has also had two mini figs so far – a boy wearing a propeller cap and a man in a parka with a broom for clearing away snow. The first day revealed a snow plough and the second day was a catapult.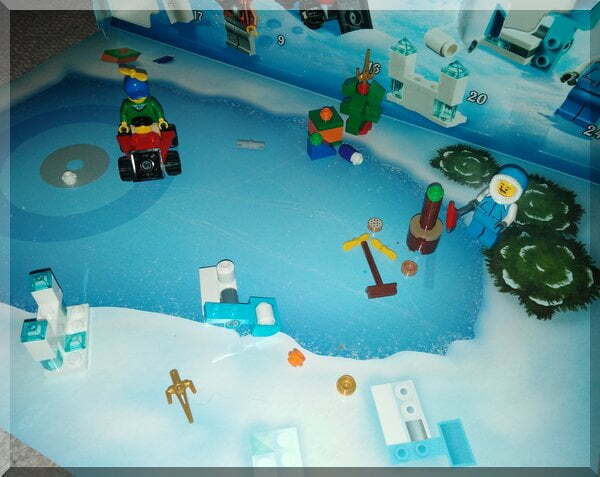 On day four, we discovered a structure that the catapult can, if aimed well, can throw a snow ball – as per previous years, this may be something that makes more sense to those living in snowy climates than it does to us! My son thought he got a strange Christmas tree on day five, but it was more of a log with an axe and chopping stump.
The Christmas tree was on day six and today he made some presents to go under the tree.