Walking through our local park recently, I spotted a new addition – Spoonville.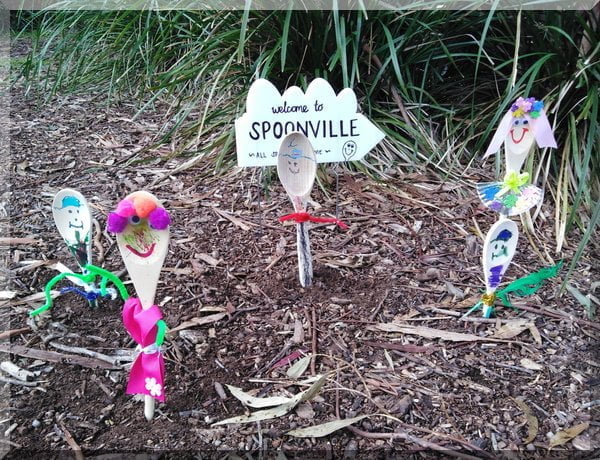 I have no idea who put this into our park, but am very grateful to them – I know that it turned my day around and gave me a huge smile when I first discovered it. And I have seen so many other people stop, smile and admire the growing Spoonville village.
Like the teddy bears and rainbows we shared earlier in the year, Spoonville is a very simple idea that many people can participate with to build community and create smiles in the challenging times that 2020 and COVID-19 have brought us. Adding a face and decorations to a spoon is all it takes to participate – and I love that the town sign states "All spoons welcome".
And our local Spoonville does keep on growing…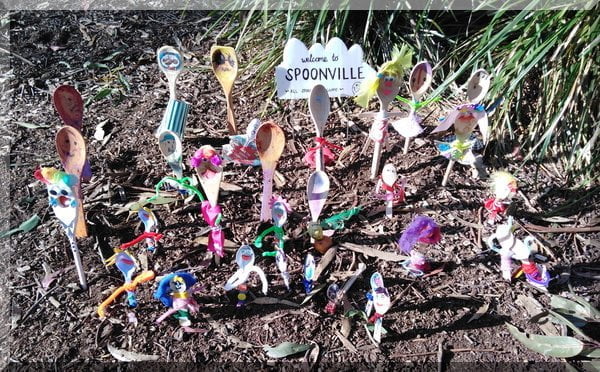 Have you seen anything like Spoonville?
Just today, I noticed that a local kinder also has some spoons in their front garden and my daughter's school sent out a notice that they have added a Spoonville village in their garden, too.
There is actually a website celebrating Spoony villages and Spoon people around the world! It is lovely to see a group of 'people' who can happily be close together without worrying about social distancing or spreading a virus!
If you start a Spoonville of your own, or participate in an existing one, let us know in the comments and maybe share a photo or two!