by Matt Halg
illustrated by Chris Mould
Canongate Books, Edinburgh, 2015
Age group:  primary school (about 5-9 years)
Format: 272 pages
A fun chapter book that explains how a boy grew to live with the elves and become the Santa we now love and admire.
The story
A young boy leaves his unpleasant aunt in an attempt to find his father. After numerous adventures, he finds the elf village with his reindeer friend, Blitzen, and mouse Miika.
My review
I wasn't really sure what to expect from this book, but I ended up truly enjoying it!
It is simple and endearing, aimed at younger readers, a refreshingly different story. As a chapter book, many children will need help reading it, or it is a good introduction to reading chapter books alone.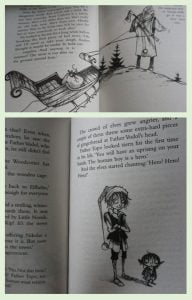 There is some sadness in the book as Nikolas does not have a happy childhood and then, at eleven, has to face his father is not the man he had believed him to be.
I enjoyed the little hints through the story of where Nikolas would end up – a red hat, Blitzen Lake, and having a deep belly laugh (Ho Ho Ho). And there is some humour throughout (such as Blitzen liking to wee on humans as he flies overhead!)
The book is simple as it is mostly from the perspective of a simple boy, and the line drawings by Chris Mould and the textured paper add to that atmosphere.
Finding Elfhelm, the elven village only visible to believers, Nikolas meets Trixie the Truth Pixie, Little Noosh, a troll and a surly village Chief, Father Vodol.
For young readers, it may be worth reminding them that the story is before Father Christmas/Santa Claus so they don't get confused.
Would I recommend this book? Absolutely! It is a lovely read and a nice back story for our modern Santa traditions.