A cold night called for a movie so we tried a Danny De Vito Christmas movie and had a few laughs.
Movie duration:  1 hour 33 minutes
Movie made: December 2006
Buddy Hall (played by Danny De Vito) and his family move next door to a small town optometrist, Steve Finch (Matthew Broderick).
Steve is a quiet man who likes things just so. Steve is the local Christmas day, helping the ton run their Winterfest each year. Buddy is more extraverted and gets bored quickly.
Buddy's daughters discover you can see houses on Google Earth – but buddy's new house isn't showing. So he reacts by adding some Christmas lights to his house so it becomes more visible! Of course, it becomes extreme and attracts a lot of attention to their street. Steve predictably doesn't appreciate the lights nor the attention…
The house really was lit up, using 14,300 LED lights! They made a digital skin over the roof. Yet, the satellite still couldn't pick up the house…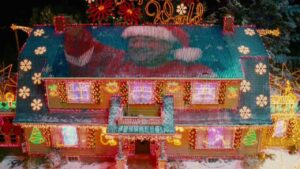 There are a number of incidents between the two men, and they become very competitive including a Stephen Bradbury moment to amuse us Aussies! Their wives, meanwhile, become friends and get annoyed with their husbands' behaviour. A family Christmas is now threatened for both Buddy and Steve.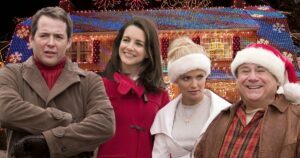 Would I recommend Deck the Halls? There were some funny moments and some sweet bits. Despite the big names in the cast, it's not the greatest Christmas movie but is fun to watch. And the ending is really pretty. In the words of my 11 year old, it was ok but not really a big plot to it.