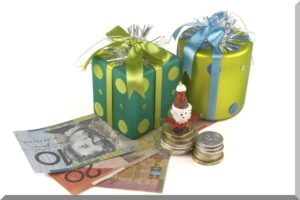 Giving money as a gift can be very practical, but looks a bit boring.
Teenagers, people setting up a new life, someone moving away, being unable to shop easily (hello lock downs and remote living!) are all good reasons that giving money may be a suitable gift choice.
Making cash more fun!
Here are some ideas for making a money gift more fun…
Add a sticker to the notes to create Santa dollars! With our plastic notes in Australia, a sticker should peel off easily enough (but you may want to test it!) for actually spending the money so it's just a little extra cheer.
In the USA, Santa Dollars are accepted as legal tender – special Santa stickers are added to notes (and look like they are part of the note) and sold for a bit above their value so charities raise funds with a little Christmas fun.
Put it into an explosion box – these are boxes that basically form layers so it looks like a gift and is fun to open! They can be simple layers or fancier with messages and notes attached as well. You can buy them, make them from kits or make them from scratch.
Create an origami box to make it a bit more personal and pretty.
Put the money inside a frame as part of a display
Fill a jar with lollies or chocolates, and pop the cash in the middle. If you can hold a secret, it may take them a while to realise the gift was more than the lollies!

Tip – you can use a toilet roll holder to keep the cash separate to the money
Idea – instead of a generic jar, you could fill a drink bottle or a vase instead so the 'jar' is also a gift. Or you could get a clear bauble and fill it with tinsel or lollies and the cash.
Hide the money in between the pages of a book – make sure the recipient is likely to read the book soon though! Or you could even cut out holes inside the pages to hide more money without bulging the covers

If the money is for a specific theme (eg to help someone saving for a house or car, or to buy a new backpack or clothes), package the money in with something relevant. So wrap some dollar notes around a bottle of car polish, inside a pair of hiking socks, or in a bag from their favourite clothing shop.

What other ways can cash be presented as a fun gift?
Actually, we have a heap more ideas and will post them soon!