Yummy muffins that have red dots to look Christmassy and fruit mince to taste Christmassy – easy to make, nice to leave out for Santa or offer guests or just send to school in lunch boxes.
They take about 20 minutes to make plus cooking time so fit into our busy family life 🙂
For fun, you can ice them in red icing with chopped green spearmint leaves on top or in white icing with coconut sprinkled over the tope for a snow look.
Ingredients
Serves: 24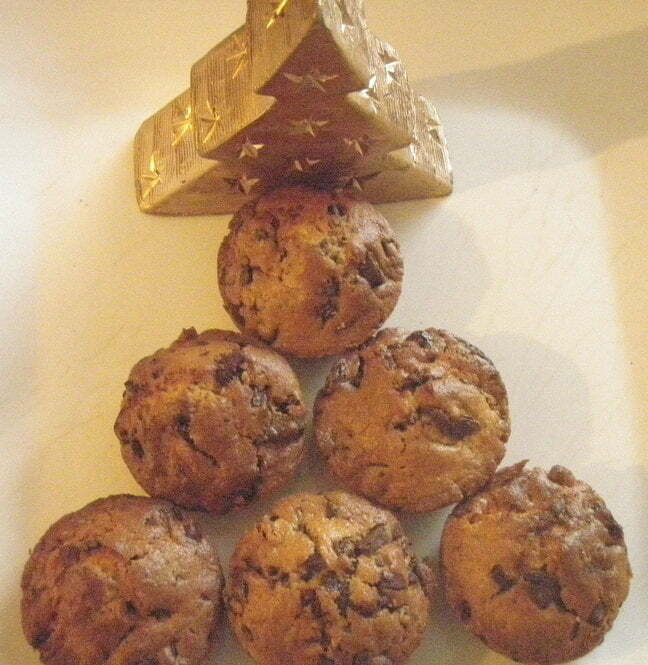 220g self-raising flour, sifted
100g castor sugar
1 large egg
100ml sunflower oil
75ml milk
60g each good quality white and milk/dark chocolate, chopped
1 heaped tablespoon good quality fruit mince (dried fruit works but doesn't give such good results)
60g fresh (or dried) cranberries (make sure you drain them if use a tin or jar – I haven't tried this but you'd risk a very wet mix)
To make:
Preheat the oven to 190C and prepare muffin trays or patty pans.
Mix the flour and sugar.
Beat egg, oil and milk.
Pour wet ingredients in with flour and sugar, and stir gently.
Add the yummy things – sorry, add the chocolate, fruit mince and cranberries.
Stir gently to not break up the fruit or get tough muffins.
Put mix into muffin pans and bake for about 20 minutes. Cooked when golden brown.
Put onto a wire rack but nice to serve them warm, too (gooey chocolate, yum!) with a scoop of ice-cream.