So the main idea of an advent calendar is to enjoy the count down of days to Christmas Day.
By walking through shops and listening to kids, it would seem that the first thing in many minds at the mention of an advent calendar is a cardboard folder with 24 chocolates. There are many options available, from Christmas related images to popular children's themes (Frozen, Cars, Peppa Pig, Dora the Explorer, Star Wars and so on).
But there are many other ways to count down to Christmas, so I thought I'd list a few…
Christmas books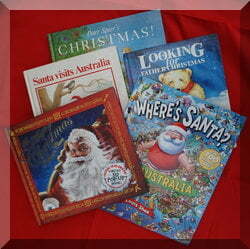 While keeping to the idea of counting down the days, this one doesn't actually involve a calendar as such. All you have to do is read a different Christmas book each night.
So you need to have 24 books (or a few less if some are longer/harder/multiple stories) but the advantage is that you need only one book per family and can reuse them year after year! You could wrap them all individually and unwrap one from under the tree each evening, or have them in a special box to get one each day (let children take turns to choose one or make it a lucky dip).
There are many Christmas books around, and you probably already have a few around the house. But if you're looking for some more, you might like to read our Christmas book reviews for ideas.
Lego Advent calendars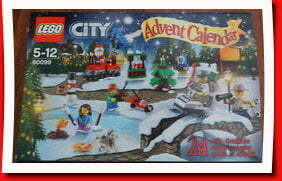 Ok, these are not the cheapest option and could still be considered commercial, but they are not based on chocolate and leave the kids with something long term. Plus Lego is a great way to build fine motor skills and imagination.
We're actually trying these calendars for the first time this year so check out our reviews day by day🙂
beautiful messages
I admit I have often thought of this but leave it too late to organise. Basically, it just means writing 24 personal messages to each child, giving them one a day to read. The messages can be presented in a number of ways, and maybe you could a different presentation each year!
The only rule is that every message must be positive, either acknowledging something good about the child or encouraging them to keep trying.
daily activities
Like the beautiful messages, you can create an advent calendar of your own but instead of positive messages, add in some fun activities to do together.
a tree of thanks
This is simple and a different twist on the messages idea above, but certainly fits into  the spirit of Christmas – and I think it is a great idea to help bring some peace to the world this year. Get the family to make Christmas decorations each day that centre around gratitude, creating a very special tree of thanks to treasure.
homemade treat calendar
Instead of using the commercial chocolate advent calendars (which usually have pretty cheap chocolate in them!), you can get some other chocolates or lollies and give out one a day. Presentations can be as simple as en envelope each day or you can use a reusable calendar (like a wooden display or a cloth calendar with 24 pockets, or make one!)
Another option is to give non edible treats each day – we did this last year with a number of small items as the surprises (things like toy animals, stickers, pencil sharpeners, hair ties, toy cars.) The challenge we found was buying enough different things that were small enough to fit into the compartments of our wooden advent calendar!
make Santa's beard
I think this is very cute – have a lovely image of Santa, preferably with fluffy trims on his hat, but no beard. Each day of December, stick on one cotton ball… Thanks to oopsey daisy for this idea 🙂
Christmas tree decorating
While you may add the lights and tinsel to the tree on 1 December, you could all add one ornament a day until Christmas Eve as a form of counting down the days and making the tree more exciting day by day!