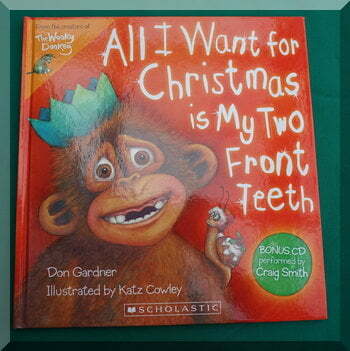 by Don Gardner
illustrated by Katz Cowley
Scholastic Australia, Gosford, 2011
Age group: preschool
With a cute monkey on the cover and the title (I sing the chorus of 'all I want is my two front teeth' when my kids are missing teeth!), I decided to give this book a chance.
The story
Based on the song "All I want for Christmas is my two front teeth", this book shows an unhappy baby monkey hoping for new front teeth.
My review
This book has some very cute pictures of the monkey and his gappy mouth. It also has the added dimension of a Santa snail and a teeth police officer being in the background for children to find (note the police officer is not on every page) – in the way that Graeme Base hides images although much easier to find.
The monkey asks Santa for front teeth, substitutes a drawing of teeth for his teeth and then discovers his front teeth are regrowing – my son certainly saw a connection between the Santa request and the teeth regrowing 🙂
I wasn't engaged or overly impressed with this book, nor was my six year old – but my eight year old was enthusiastic about having enjoyed it so maybe it's just a matter of personal taste.