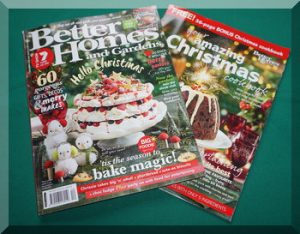 So the latest edition of Better Homes and Gardens (BHG) magazine is out and it is based around Christmas and includes a Christmas cookbook attachment. I grabbed the magazine for inspiration (and witches fingers – see below) and thought I'd share my thoughts on the magazine as I did last year.
BHG "Hello Christmas" December 2016
It does feel a little ridiculous calling it a December edition when I bought it in October, but that is fairly common practice these days… Ironically, the editor writes as if the magazine isn't published in October (she refers to some people starting Christmas preparations in October as if that was a while ago!) And yet the Priceline advertising feature (6 pages at one end of the magazine) talks about October being Breast Cancer Awareness month…
The magazine includes some delicious recipes such as a chocolate orange fruitcake, prawns with hazelnut mayo and seared eye fillet with gado gado-style salad – I'm looking forward to trying some out 🙂
I really like that it includes some Christmas crafts and ideas that are not budget busting, like making coloured linens instead of paying a fortune for pre-made tablecloths and napkins.
On the other hand I just rolled my eyes at the December events calendar – all very interesting if you are in NSW or Queensland but not inclusive for the rest of Australia. Actually, there is a listing for Christmas Melodies in Melbourne (never heard of it before!) but ignoring Carols by Candlelight at the Myer Music Bowl and other states is a bit nauseating.
If you are looking for recipes and craft ideas for Christmas, then this magazine will help you – and also give you some gardening and decorating information.
BHG "Your amazing Christmas cookbook" 2016
This 36 page cookbook has both recipes and tips for cooking meat beautifully for your Christmas events.
It starts with recipes for chicken, ham and pork (complete with crackling!) then moves onto side dishes such as whole roast cauliflower cheese and roast beetroot with figs, goat's cheese and thyme. Of course, it finishes off with a Christmas pudding and brandy custard, and some pav stacks.
I haven't tried the recipes yet, but they are written in clear steps with pictures so I think they will work fairly easily.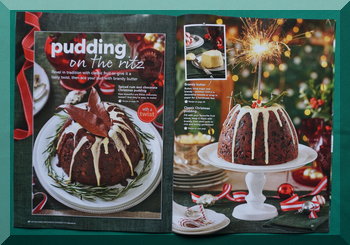 Witches fingers
Ok, this is definitely a Halloween recipe rather than Christmas but I had the magazine in time for Halloween and my kids had seen these made on the TV show and were keen to try them at home!
It is a simple recipe in that you throw everything in together and mix, but I found it more challenging and it took a lot longer than 10 minutes to prepare them! The mixture is quite thick and sticky while also needing to break up the nuts and fruit. I didn't use a food processor but tried a vitamiser and hand processor – it was hard work! I'd suggest reducing the size of the nuts before adding everything else.
I couldn't resist trying them in Christmas shapes, and will play with this recipe a bit as I can't send these to school as they are (no nut policy) – so watch out for a Christmassy adaptation of Fast Ed's witches fingers!