by Nicki Greenberg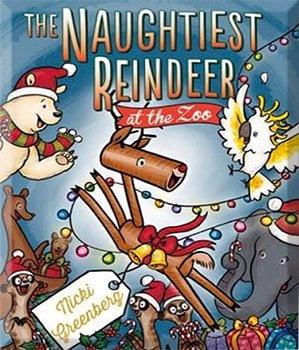 Allen & Unwin, Sydney, 2013
Age group: primary school
The story
It's Christmas Day and a family heads of for Christmas with Granny and Pa. Much to the children's horror, the parents won't let them take Ruby the reindeer with them after the trouble she caused last year, so she goes to the zoo for the day instead.
My review
I really enjoyed this story book. It is Christmassy but has a very different story that is fun and keeps the kids wondering what will happen next.
The zoo animals are feeling sorry for themselves as they get lonely on Christmas Day (which led us to talk about the fact that Melbourne Zoo is open and has keepers on Christmas Day). Ruby had an idea of letting the animals mingle and party, which seemed to go ok at first but then the inevitable problems arise.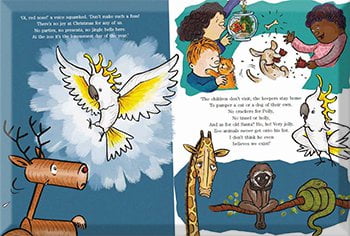 Ruby sees Santa's sleigh go past and asks for help, naming all nine reindeer.
My kids reacted to "I don't think [Santa] even believes we exist" – my six year old just could not understand how anyone could not know about zoo animals – and "Good tidings, good cheer! Mind the elephant poo!" (they may that hysterical, of course!)
The book rhymes throughout which delighted my seven year old and adds some rhythm and fun to the experience, too.
Pictures throughout are colourful and simple, matching the story perfectly. And some sparkly texture on the front cover makes it all a little bit more special, too. It's all good fun and I recommend it.
Greenberg has written another naughtiest reindeer book and some others, and based on this one, I'll be keeping an eye out for them 🙂