Happy Gingerbread House Day!
To celebrate Gingerbread House day (yes, there really is a day celebrating gingerbread!), ChristmasJen and I made some gingerbread to create a Santa sleigh.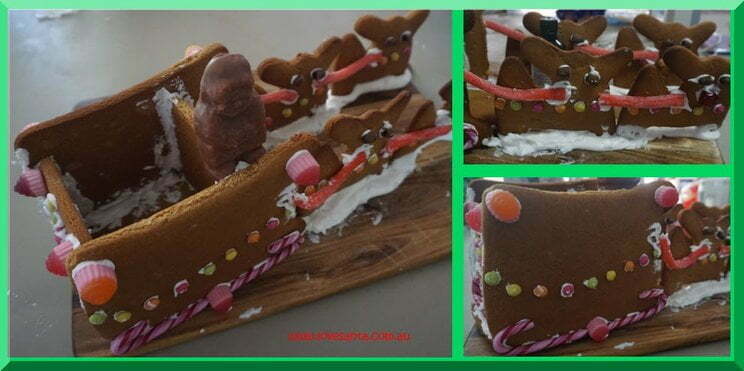 We used a gingerbread recipe known to work well and a cutter set that I had grabbed from an op shop.
Cutter set
Using the cutters, we cut out two sleigh sides, two sleigh ends and four reindeer. My tip if you create a gingerbread sleigh – cut half the reindeer with the cutter upside down so some will face the other way for decorating.
The set made this all very easy, but you could cut out cardboard templates instead – the ends are just squares and the sides were about 3 times longer with curved sections to look like a sleigh. Any other animal cutters may work if you don't feel able to draw some reindeer templates!
Creating the sleigh
So you will need gingerbread and icing, plus a board to sit your sleigh on.
two sleigh sides
two sleigh ends
reindeer (as many as you want – I got four out of the recipe above)
egg whites
icing sugar
To make the icing, start by beating two egg whites until they are white and form stiff peaks.
Then add icing sugar, about half a cup at a time, to make a really thick icing. I used 3.5 cups in total, and probably could have used more. Remember that thinner (ie runnier) icing takes longer to set so you will end up holding pieces together for a while.
Lay out your gingerbread pieces and pipe some icing to stick them together as a sleigh.
Decorating Santa's sleigh
The gingerbread reindeer were easier to decorate lying down, but the sleigh can be decorated once it is put together – especially if you want to decorate the back of the sleigh.
My son had a wonderful time using the remaining icing to stick on Smarties, candy canes and lolly cupcakes.
To finish off our gingerbread sleigh, we added a marshmallow Santa on top.
Decorating the reindeer was quick and simple – and we added a glacé cherry to one to be Rudolph!
Then we ran long streams of snow (also known as icing!) out in front of the sleigh and stood the decorated reindeer in the snow. This is where stiffer icing would have helped as I need supports to help the reindeer stand for a little while as the icing fully set.
We used some sour pencils to form the reins between the sleigh and reindeer, and we were done!
It was a lot of fun to make Santa's sleigh. And the reaction at a local Christmas party when I presented the gingerbread sleigh was priceless! There were compliments from adults, but more striking was the amazement and wonder on lots of little faces – I do love delighting young children! It didn't take long for there to just be an empty board with bits of discarded icing…