Part three of our Lego advent calendar reviews… We finished off after day five hoping for the Lego Friends calendar to produce some exciting items, so let's see what we found behind the next three flaps.
Day six
The Lego City calendar for day six was a plane for my son to build. He initially followed the instructions and built the plane as shown, but then realised he had enough spare bits that he could change the design a little, which made him happy.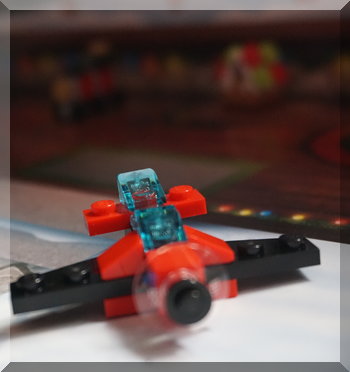 My daughter found a ski ramp and snow board, which she was happy enough to put together.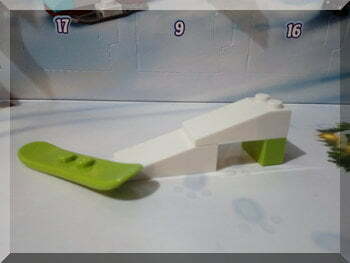 Day seven
I was very surprised that another pet shelter/stand was behind the flap for day seven in the Friends calendar. But both my children and their friend thought it was perfectly reasonable to have one for the rabbit and this new one for the dog so fair enough!
My son was very excited to build a sleigh (more of a sled I'd call it, but he's happy with a sleigh) from his City calendar for day seven. He was a little unsure about who was meant to ride on the sleigh so I offered but found it did move too well when I put my foot on it…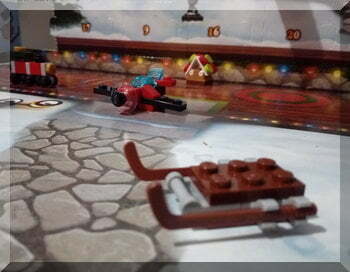 Day eight
And tonight the Friends calendar produced the dog's sled to attach behind Stephanie's snow mobile. While the dog alone disappointed her, my daughter is now quite happy to have the stand and sled for the dog.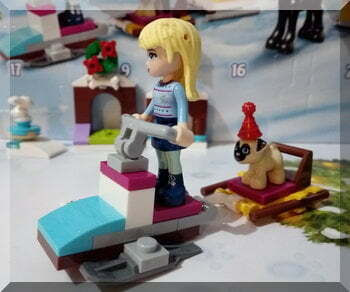 Meanwhile, the City calendar gave my son a grandmother figure with a tray of biscuits (presumably ready to give Santa!) She now sits proudly on the chair!