Ladybird, United Kingdom, 28 September 2016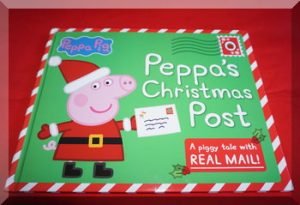 Age group:
pre-school
Size/format:
hard cover, 48 pages with 6 envelopes and surprises
Looking like the Jolly Postman books, I couldn't resist getting this as a Christmas gift for a young friend…
The story
Mummy and Daddy Pig have to stay in bed, so Peppa and George prepare for Christmas with their Grandparents.
My review
I suspect that any Peppa lovers will adore this Christmas book!
While toddlers may be the prime target for Peppa, this book is not a board book and could easily be damaged by eager little hands. It also has a fair bit of text on each page so may be too long to be read fully to younger children.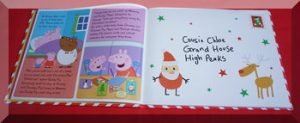 Peppa and George have fun with Granny and Grandpa Pig as they bake, decorate, make and write. Each page is followed by an envelope containing something special and no only relevant to the story, but sometimes telling part of the story. The book is bright and colourful, showing genuine Pig family characters and a happy Santa Claus.
Everything is wrapped up nicely at the end of the book, with the children being acknowledged for their help and reminded to write thank you letters to Santa as he loves getting mail.
I am a little torn about the interactive parts of this book. A couple of them are not just letters to read, but once you make use of them, they are no longer part of the book. For instance, a page of cut out decorations is cute but once you have separated them and hang them up will they ever get back into the book? And a blank template for writing to Santa is lovely but only can be used once! So they are fun but limited uses.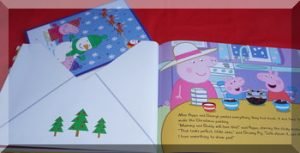 My favourite part is Peppa being so excited about getting a personalised letter from Santa?