by Colin Buchanan
illustrated by Glen Singleton
Scholastic Australia, 2010
Age group: early to mid- primary school
A koala helping Santa is a story line I find intriguing, and add in the caption "the official Waltzing Matilda" Christmas anthem and I couldn't resist trying this picture book!
The story
Santa fell asleep in the Aussie bush so a friendly Koala plans to save the day, but not everything goes to plan. This story is done to the tune of Waltzing Matilda, and the CD comes with the book.
My review
I sang this to my six and eight year olds tonight and we all enjoyed it, and I loved hearing their surprised laughter at the twist on the last page.
It's a fun story about the bush animals taking over delivering gifts off Santa's list while Santa had a nap by a billabong. We see an echidna, emu, goanna, platypus, wombat and bandicoot and six boomers  (pulling the sleigh of course!)
Not surprisingly, there are numerous Aussie references, like lamingtons, Tassie, the back of Bourke, a mad cockatoo and boiling up a billycan.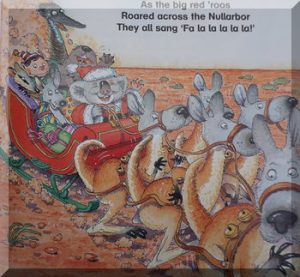 My six year old was keen to read the book herself, and my eight year old managed to sing along with me by reading the pages. And the pictures are lively and cheerful, so I'd say it's a book worth adding to a Christmas collection.
The included CD has an instrumental version of Santa Koala as well as the full song to sing along to.