So we went to a Christmas in July dinner last week and I wanted to take something special to add to the Christmas spirit. I think I ended up with a Christmas look and, as everyone kept coming back for more, a yummy treat all in one.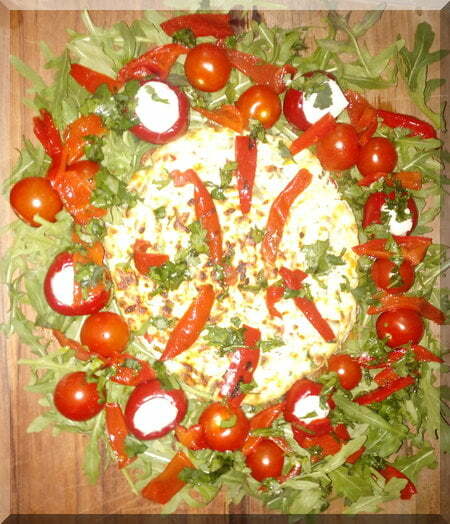 Making the cheese Christmas Wreath
In the simplest of terms, I prepared a baked cheese and surrounded it with green and some red 'decorations'.
Ingredients
325 g ricotta cheese
1/3 cup grated Parmesan cheese
2 tablespoons chopped fresh rosemary
2 tablespoons chopped fresh parsley
2 tablespoons finely chopped grilled red capsicum
decent handful of rocket leaves
bunch of basil
cherry tomatoes (or use stuffed bell capsicums)
couple of pieces of grilled capsicum, sliced into strips
some roughly chopped parsley leaves as a garnish
Method
The baked cheese is very easy and based on a recipe from Taste – I just adjusted it by using herbs we had growing at home and added the capsicum to give it more Christmas colour! Basically, you just mix the ingredients and bake it in a cake tin.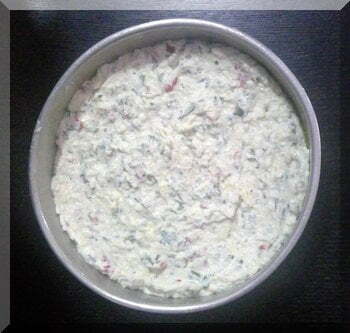 After 25 minutes baking, I turned the cheese onto the serving board facing up (ie don't just turn the tin upside onto the serving dish! Facing up has a bit of colour showing and keeps a better shape as the top is firmer than the bottom of the cheese.) I decided to have a rustic look so used a wooden chopping board underneath the wreath.
Once it had cooled a little, I surrounded it with rocket and basil leaves.
I then added some Christmas baubles (being cherry tomatoes and stuffed baby capsicums).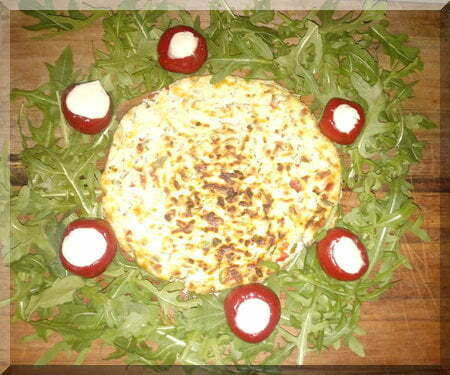 For fun, I draped capsicum strips over the baked cheese and greenery as ribbons of tinsel and then scattered chopped parsley leaves over it all for flavour and to break up the red decorations a little.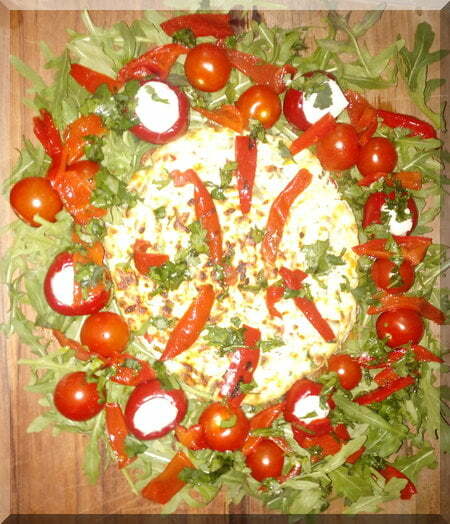 I was really pleased with my Christmas cheese wreath – it looked festive and tasted delicious!
Do you think this would be a good snack to leave out for Santa (well maybe leave in the fridge for him to get if it's a hot night!)?