It may be Monday, but the excitement of opening another flap in an advent calendar is strong!
Ornament calendar
We pressed out a Christmas tree ornament tonight, to see Santa and the elves decorating their Christmas tree!
Lego City
A little red racing car popped out of the advent calendar today, explaining the racing track on the scene layout!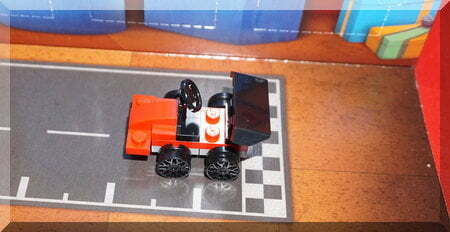 Lego Friends
Today we found a set of golden bells in the advent calendar – and made a discovery. Everything in this year's Friends advent calendar is an ornament to hang on a tree or around a room – it looks like there will be no characters, no Santa and no theme.
In past years, the advent calendar has produced characters and props that fill in a scene and that the children enjoy playing with. True, this year's box didn't have a scene which was a bit of a clue that we missed, but we truly did not expect 24 ornaments. Even the first couple of days, with the larger than expected scale of the heart and guitar didn't make us expect something different, but today it clicked. The box says 'Build your happy holidays'and '24 gifts' so we assumed it would be like previous year calendars. Looking online, the official description does state 'build a new decoration for your house or Christmas tree' so that is up front but we didn't get ours online. It also confirms there will be no Lego people included but there are 'decorations to represent each of the 5 friends from Heartlake City'.
Ornaments are nice and we will find a way to make this special for my daughter, but I am very disappointed with the Friends advent calendar changing like this. It doesn't help that we couldn't quite complete the bells – the holly leaves can't attach to the top of the bells without a connector piece (which luckily we have enough Lego in the house we could rectify it but we shouldn't have needed to.)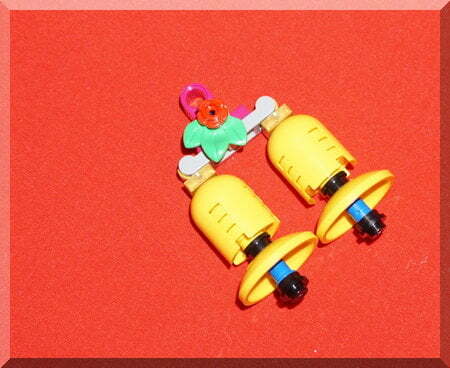 I do like the bottom of the bells though as the dangling donger does add a realism to the bells. And it does hang nicely: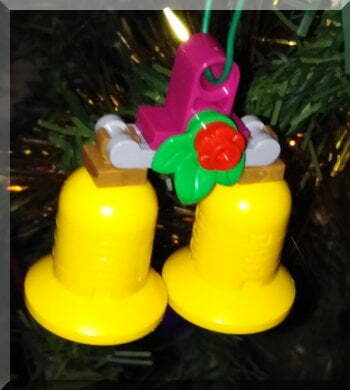 Christmas book
The magic little Christmas tree is the next book we will read in our book countdown to Christmas – it is a cute little book and goes nicely with our Christmas tree ornament obviously!