Welcome to December, and the start of 2018 advent calendars!
Love Santa December count down
This year, we are effectively doing four calendars each day!
What? Why? you ask… let me answer!
So we are doing the Lego City calendar and Friends Lego Advent calendars again because my kids love them and I appreciate getting a quality item each day rather than chocolate or rubbishy toys.
On top of that, we are doing an ornament advent calendar and a Christmas book calendar.
Each day we will share what we find inside the three calendars and which book we will read.
Ornament Calendar Day One & a Christmas read
The ornament calendar actually includes a lovely story inside it so we read it tonight instead of an actual book!
The calendar is a set of cardboard ornaments that you create after popping them out of the booklet. Once you pop out the ornament pieces, you can see a picture behind it so there are two surprises each day!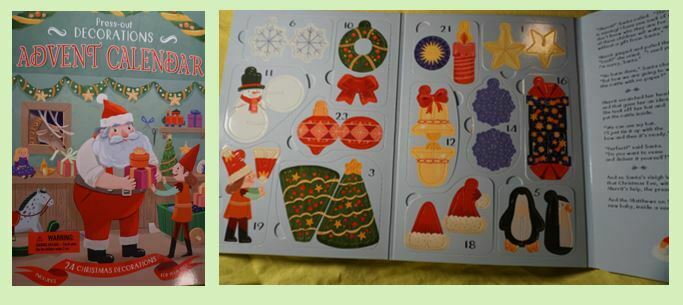 Our first ornament is a bauble, based on two pieces. The pieces are thick and sturdy, and can be placed back into the booklet if you wanted to store them for next year. Fitting them together is fairly easy, but the slots are shaped to give a firm fit that stays together.
It's worth noting that the ornaments have a little hole for threading something through to enable hanging, but you have to find the something yourself. I used green sewing thread so it is close to invisible when we hung the ornament, but there was a bit of scrambling for something as I hadn't thought ahead for it!
So then we read the story, Wrapping up for Christmas. With my daughter's love of babies satisfied and seeing Santa take presents in his sleigh, we enjoyed seeing how an elf and Santa dealt with a simple mistake in a positive way – a great start to our Christmas reading!
Lego City Day One
It's not a very Christmassy start, but the City calendar had a spaceship behind the first flap. A spaceship or rocket was also in the 2015 (a spacecraft) and 2015 (two rockets) Lego City advent calendars.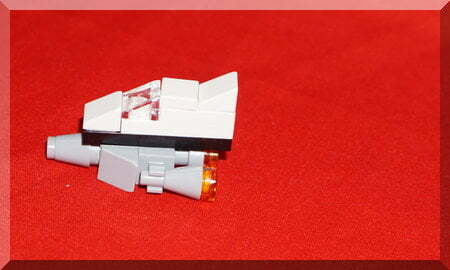 Lego Friends Day One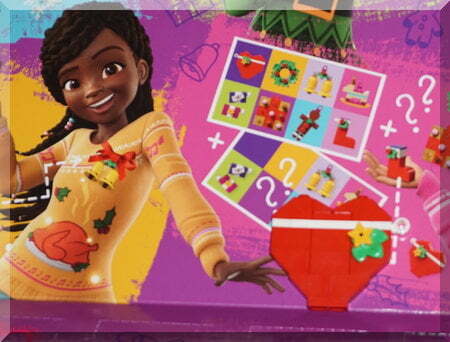 And my daughter was surprised to find a large red love heart as her first advent calendar item this year. It is red, true, and Christmas is a time for showing love but it really felt like this was better suited for Valentines Day than 1 December… But it is cute and has a star so we're happy with the start of our advent calendars.