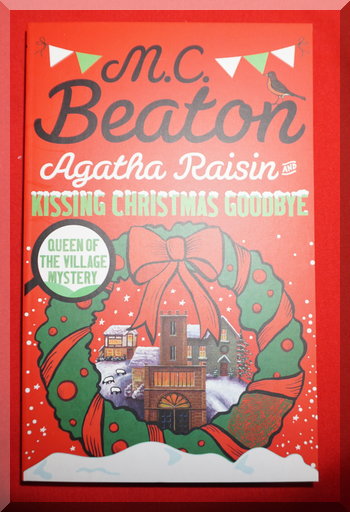 by MC Beaton
Constable, New York 2007 (this edition UK 2016)
Age group: mid-teen to adult
Format: 240 page paperback
I've seen some Agatha Raisin mysteries on TV so when I saw a christmas themed book, I grabbed it to see what the books are like – and how closely they fit the TV version!
The story
Agatha Raisin aims for a perfect Christmas whilst trying to determine who gave hemlock to Mrs Tamworthy (after the lady in question told Agatha she was scared for her life).
My review
So this is book 18 in the Agatha Raisin series, but the first one I have read. It was perfectly fine to read this one before the other 17, although I assume character development and history would be better read in order. Interestingly, M C Beaton wrote the Hamish MacBeth books as well yet I find the two TV series based on the books to be quite different to each other. Have you read both series – did you find them particularly different?
The mystery itself unrelated to Christmas, but it includes a sub-story about Agatha preparing for a Christmas party to end all parties – she hopes! And the party includes a twist that readers of the series will find interesting, I believe.
Kissing Christmas Goodbye introduces a new character, Toni, for the series. This late teen girl gives opportunities to show Agatha as generous and caring, as well as grumpy and jealous of Toni's youth and enthusiasm.
There is a complex plot to the crime in this story, with a quite unexpected result. The book also shows Agatha's struggles with aging and men.
It was rather interesting to have many characters call each other "Mrs…" in a relatively modern setting. It gave the story a somewhat parochial feel at times and made it feel like a 1950s story, which somehow suits the tone of it overall.
So do I recommend it? That depends – as a truly Christmas book, no, not really. A sa light read over a Christmas holiday, absolutely! It is a bit of fun and fairly easy to read (the complex plot takes a little effort to keep up with!) so worth a try although it is never going to be one of my favourite books.