Not so conveniently placed, Tinkles was sitting in front of the pantry this morning inviting the kids to cook with her!
She was helpful by getting out a bowl and spoons, some flour, sugar and food dye, and left a note for the children. She even had two Christmas aprons ready for the children, along with some gingerbread train cutters.
Being a school day, we can't do the cooking until this afternoon (but it does help fill in the 'what do we take to the after school party tomorrow?' question!) Of course, we will have to use a different bowl and spoon as Tinkles is sitting in the bowl! I didn't realise it straight away, but my son wrote a note to Tinkles in response, too.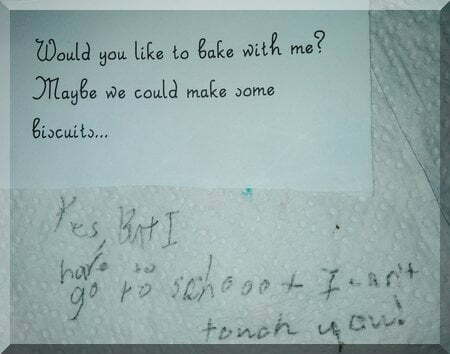 Tinkles asked "Would you like to bake with me? Maybe we could make some biscuits…" and my son responded with "Yes, But I have to go to school and I can't touch you!"