by Roger Priddy
Priddy Books, UK 2017
Age group: toddlers
Format: hardcover picture book, 8 page book plus 15 cut outs
I have a friend who loves Christmas as much as me so when I saw this interactive book, I just had to get it for her toddler!
The story
A simple story with things to find and objects to fit in place.
My review
This is a cute book, designed for inquisitive toddlers as it encourages interactions with the book rather than just listening to a story.
The book has a plastic box attached that contains various cut outs. There are five spots per double page where the cut outs will fit in, so little fingers have to coordinate the pieces like a simple jigsaw puzzle. It is simple and a good idea, although my nine year old found a few pieces challenging to place – it is easy to have them upside down and some are quite a tight fit.
The text on each double page mentions certain items for the child to find as well – two candy canes or three presents for example. We also then realised that each of the cut outs for that page are also 'hidden' on the page to be found. There are suitably obviously placed for toddlers to be challenged and find them all.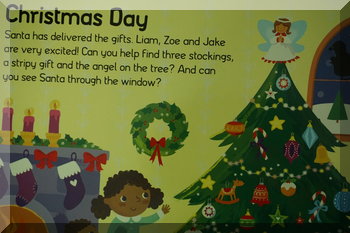 I really liked this book, and the two year old recipient loved the pictures and playing with the cut outs so I count it as a successful Christmas present all round!
It also introduced me to Roger Priddy's books – he seems to have written some fantastic books for kids that are fun and educational.
Would I recommend it? The publisher describes the book as "Encourages development of vocabulary and hand-eye coordination skills" and I would say that is very accurate, so this is a fun and developmental Christmas book I highly recommend.