by Jedda Robaard
Penguin Books, Australia, 2019
Age group: 1 to 4 year olds
Format: 14 page board book
Published just last month, this is a gorgeous Australian Christmas book that I found whilst looking for a gift for an almost one year old – I'm sure she's going to love it!
The story
A young koala is enjoying the start of summer and preparing for her favourite time of year, Christmas.
My review
This is a lovely book on so many levels – it is Australian, about Christmas, is positive and is based in real life so kids can relate to it.
Our lead character is involved in fun things like decorating the Christmas tree and playing in a park, and more mundane tasks like cleaning, cooking and rearranging furniture! Young children will spot things that are happening in their own homes, which is both comforting and educational for them.
I also noted and loved that she wrote a letter to Santa, too!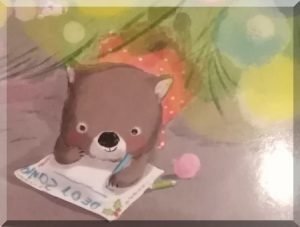 The pictures are much of the story of course, and are well worth spending time on. They are beautifully drawn and include lots of detail without being cluttered or overwhelming. Illustration is Robaard's background, from learning graphic design to teaching children's art, and it shows in this beautiful book.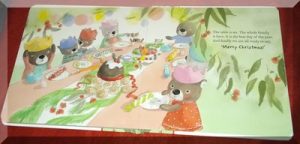 Overall, the book is positive but I particularly like some of the little touches like our Koala thinking 'about my friends and family and their favourite things too' and making their gifts. Decorating the tree makes things look magic and the Christmas pudding recipe has been handed down through the generations.
Would I recommend it? Absolutely! This is perfect for any baby or toddler, through to pre-schoolers and maybe a little older.