edited by Samuel Johnson OAM
Hachette Australia, Sydney, 2018
Age group: teen to adult
Format: 148 page paperback
A compilation of letters to Santa, written by Australian celebrities as adults.
The story
Not a story as such, but the book was thought of and executed by Samuel Johnson (unicycle rider, TV celebrity, brother who founded Love Your Sister) as a fund raiser in the fight against cancer. All of the letters have been written without the celebrities receiving any payment for their contribution to the book.
My review
Obviously this is a collection so there is a lot of variation from page to page – some letters are nostalgic, some are funny and some are a bit political (such as wanting refugee children out of detention on Nauru). There is also variation from a few lines to a few pages – either way, giving you space to read it slowly over time or easily read it as a single entity.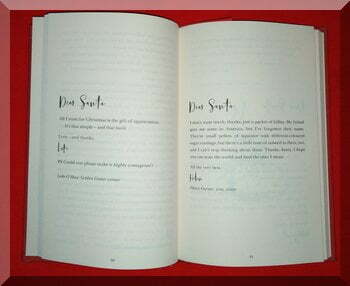 I found it interesting that the people I was most drawn to read were not always the letters I most enjoyed reading. A couple of letters felt like they were trying too hard – trying to be clever or impressive rather than getting into the spirit of writing to Santa (to me, that is genuine and heart felt) but the range of topics and styles was interesting and thought provoking, too.
It is nice to have it adult centric – I mean, it could have been letters of what they imagined they wrote as children, or some other child centric model.
Celebrities included…
There are 68 letters to Santa in the book, written by a range of Australians, including:
Gus Luenig, artist
Shane Jacobson, Chief Scout (Vic), actor
Deborah Mailman, actor
Leigh Sales, ABC presenter
Rove McManus, TV personality
Hildegrad Hinton, prison guard
Stuart Coupe, band manager of old, broadcaster
Paris Mitchell, public speaker
Helen Garner, writer
Ian Smith, political lobbyist, married to Natasha Stott Despojer
Peter FitzSimmons, ex rugby player, presenter
Would I recommend it? How can I not? Raising money to fight cancer is such a worthy cause – cancer causes so much pain and suffering. Add in it is about letters to Santa and it has my vote!
But seriously, it is an interesting book and has some letters well worth reading. Sure, some of the letters I didn't like much and others didn't add a lot of value, but overall the letters are good. It is an easy read given you can read just a page or two at a sitting, so I think it makes a great Christmas gift.