by Jedda Robbard
Little Hare Books, Richmond (Melbourne), Sept 2017
Age group: 2 to 5 year olds
Format: 12 page board book with lift the flaps
I don't recall how I came across this book, but it is sitting amongst my other Christmas books, and is very cute!
The story
Little reindeer is helping Santa – until he lost some of the presents that is!
My review
This book starts with the little reindeer receiving a note from Santa, asking him to deliver the presents on Christmas Eve: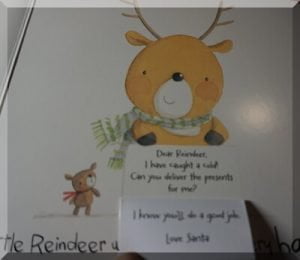 I like how the book shows how proud little reindeer is at being asked to help – this is certainly something that helps young children identify their feelings of pride when they get to help someone they admire. Then, little reindeer shows off a little in his excitement with sad consequences – also something young children can relate to, I'd say!
Little reindeer's friends help him out, happily including Koala and Kangaroo joeys, which is a nice positive feel and moral for the story.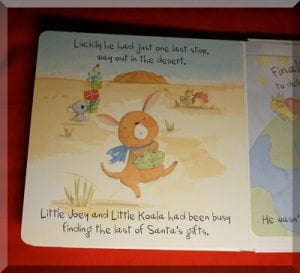 It is a lift the flap book, making it less suitable for very young readers to handle themselves but lots of fun for many ages to enjoy. And Robbard's illustrations of the animals and piles of presents are gorgeous.
Would I recommend the little reindeer who lost his presents? Yes, this is a lovely Christmas book for younger readers – and one that can be read all year really. It has a happy story with nice messages, fun flaps to look behind, and beautiful drawings, so what's not to love?